Montreal Metro: map, description, photos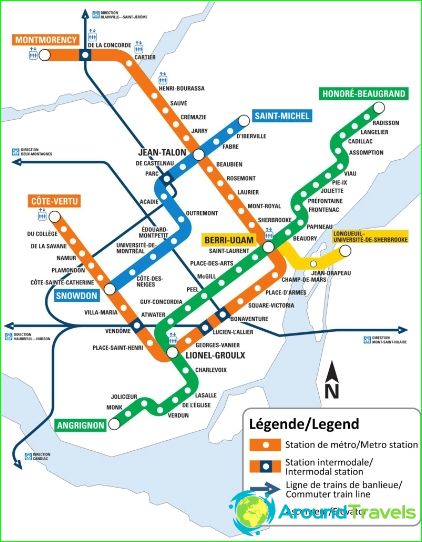 Montreal Metro was opened October 14, 1966. It is the second largest underground in Canada after Toronto subway. Metropolitan Montreal - one of the few subways that: completely under the earth and uses the train on the bus go.
Currently, underground represents4 lines and 68 stations. The total lengths of the paths - 69.2 km. Passenger traffic leaves on average more than 300 million. Per year. And nearly 850 million passengers per day.
Line 1 (green) was put into operationLine 2 simultaneously with a 1966 year. Movement of trains on this line is from Angrignon station to Honoré-Beaugrand. The line length of 22 km. Number of stations - 27.
Line 2 (orange) - the longest network line opened in 1966 and runs between the stations of Côte-Vertu and Montmorency. line length - 30 km. Number of stations - 31.
Line 4 (yellow) was discovered in 1967. This is the shortest line in the Montreal subway system length of 4.25 km, with three stations. It links the city center and Longueuil (Longueuil), passes under the river and has a stopover on the island of St. Helena.
Line 5 (blue) - the newest line in the systemMontreal subway opened in 1986, provides transportation between Snowdon (Snowdon) and Saint Michel (Saint-Michel). The line length of 9.7 km, the number of stations - 12.
From the beginning, the city subway construction authoritiesWe have taken measures to promote the contemporary art in the subway: subway to work on the design of such outstanding artists as Jean-Paul Mousseau and Marcel Ferron. Metro Montreal boasts beautiful works of art: stained glass, frescoes, sculptures, and today is one of the best in the world of design. Some stations are a classic example of Art Nouveau architecture.

Hours Montreal metro
Montreal Metro works: Lines 1, 2 and 4 - to 05:30, line 5 - 6:00 in the morning, the subway is closed between 00:30 hours and 1:30 hours of the night, depending on the lines and days of the week. Intervals trains are between 2-6 minutes during peak hours and 12 minutes at other times.

Tickets for the Montreal metro
Metro and public transportation in Montrealfully integrated, allowing you to not depend at fare on the vehicle. However, travel time for a trip is limited to 90 minutes. On sale are tickets for single and multiple trips, as well as reloadable cards. Exemptions apply to pupils aged from 6 to 17 years old and retired. For children under 6 years of age is provided free travel accompanied by an adult passenger.
Photos of Montreal subway