Metro Vancouver: map, description, photos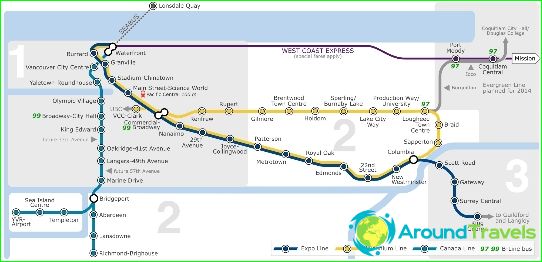 Metro Vancouver - a system of light metro withoriginal name SkyTrain. A special feature is the fully automated metro trains on all lines of the system. To date, Metro Vancouver is three lines and 47 stations. Passenger traffic is about 370 thousand passengers per day.
Starting all the lines associated with certainevents. Construction of Line Expo was dedicated to the opening of the World Expo 1986, the opening of the Millennium Line was assumed at the beginning of the millennium, but it was opened with some delay in 2002, the Canada Line was opened in 2009, but owes its existence to be held in the Vancouver 2010 Winter Olympics .
line scheme is diverging from thetotal stations Waterfront three branches, two of which - Expo and Millennium uses a common route for 16 stations - from Waterfront Station to Columbia Station. Canada Line runs through the city from north to south and Bridgeport station divides into two branches - the airport and in the suburbs of Vancouver, Richmond.
Hours Metro Vancouver
Metro Vancouver operates from 5:00 am to 1:00 am. Interval of trains is 2-3 minutes during rush hours, 7-10 minutes at the usual time, and up to 20 minutes in the late hours.
fare
Payment of travel in the metro Vancouver zone. Rates depend on the number of zones we pass by the passenger other than the evening time after 18:30, weekends and holidays, when a single tariff for the entire network. For directions to the airport at any time at an additional cost. Preferential right of way used by children from 5 to 19 years (students), seniors and people with disabilities. For children up to 5 years provided free travel accompanied by an adult passenger.
Tickets can be purchased at vending machines in the lobbies of stations. The Metro Vancouver are no turnstiles. But on routes inspectors working on trains. Fines for fare dodging is very high.
Metro Vancouver Photos