National Parks of Canada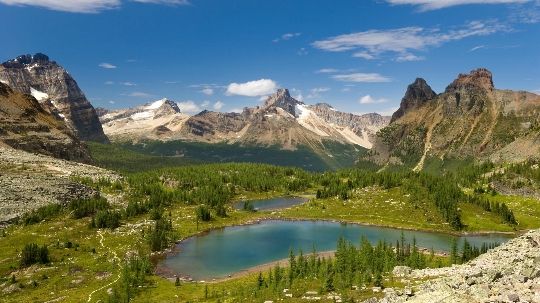 In Canada, there are manyprotected areas. The purpose of their creation - to present the country's inhabitants and its visitors the diversity of Canada's flora and fauna. About forty Parks Canada is quite cope with the task, but in the plans of the organizers - new areas in need of protection.
Thirteen areas
Canadian Environmental zones represent landscapes of all thirteen provinces and territories, each of which offers guests the opportunity to visit and explore:
Park Vuntut National Park in the far north-west of the guardsamazing wetlands. It is home to the largest herd of caribou on the continent, and almost half a million birds annually output of chicks on the shores of lakes Plain Old Crow.
In Grasslands National Park is guarded by the Canadian prairie. Pride organizers park - plains bison herds, and such typical once a Canadian fauna as the black-tailed prairie dog survived in the wild only in the vast province of Saskatchewan.
The largest nature reserve in the Rocky Mountains,Canada's Jasper National Park included in the UNESCO World Heritage list. There is an ancient glacier Athabasca planet, and for fans of outdoor activities created opportunities to do downhill skiing, go hiking or play golf.
The first swallow
The first national park in Canada became established in 1885 in Banff, Alberta. Until now, it remains the most visited - every year there may be up to four million tourists.
The park covers an area of ​​6.5 thousand sq. M. km and is located 100 km from Calgary city in the south-east of the country. The tourist infrastructure is well developed in the town of Banff.
To get to the park you can on the plane - Calgary has an international airport - or by car. Through the park runs Trans-Canada Highway.
The main natural attractions of Banff -Lake Louise and Moraine Valley and the peaks of the Ten. Ski lovers having fun doing your favorite sport on the ski resort of Lake Louise Mountain Resort.
Tourist Park infrastructure includesmyself hotels and restaurants, campgrounds and parking lots, souvenir shops and gas stations. The entrance ticket for an adult will cost CAD 10 and will be valid up to 16.00 following the purchase date. The same is authorized to catch fish, but for the opportunity to stay in a camping car will have to pay from 15 to 40 CAD depending on the selected services.
Details on the website - www.pc.gc.ca.
On the banks of the St. Lawrence
Ten ecosystems are presented in the nationalPark Forillon National Park of Canada in the Province of Quebec. Typical inhabitants of the park - the seals and otters, double-crested cormorant and black bears. Watch the blue and humpback whales can be on board a small vessel, leaving the ocean in good weather from spring to early autumn.
Photos of the national parks in Karelia