Shops and boutiques in Montreal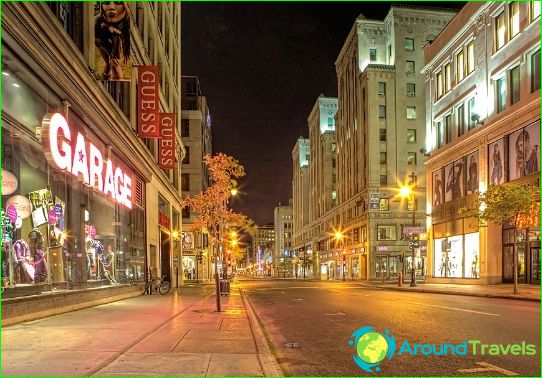 If we talk about shopping, then out of all citiesCanada's most interesting in this sense is Montreal. Successful neighborhood of small shops with the latest fashion delights and hypermarkets with goods from around the world, as well as periodic rather big discounts cause worry dandies and ladies.
Popular outlets
Saint-Denis Street begins the old town andIt stretches to the outskirts of Montreal. It is located several theaters, cinemas. A great number of restaurants, bars and cafes, entertainment clubs. Shops tend to ravage the wallets of buyers, as prices are sky-high.
Over the medium price segment products betterto go to the Rue Saint-Catherine. Trade in the region has a department store format with a variety of different brands in them. There are also impressive size representation of the individual brands: Apple Store, H & M, Mexx, Aldo, Luluelman, Mango, Zara. This area is like a Canadian bohemia. In many cafes spend time "free artists", the representatives of various youth subcultures, members of the LGBT community.
Close to the Saint-Catherine shopping street is Sherbrooke. It respectable atmosphere and small fashion boutiques with fine clothing, jewelry, home furnishings to the highest bidder.
Market "Bonsekur" is a historical monumentCanada. Architect William Futner took under his area, which would fit a city block, providing noticeable from afar the majestic silvery dome. The building erected specifically for the parliamentary sessions at a time when Montreal played the role of the country's main city. Then function facilities changed. There lived at different times of the mayor's office, a library, a ceremonial hall for balls, municipal police office. And now - the market of products of national crafts, a souvenir, exhibition and sale of works of art of different directions. Collection exhibitions are frequently updated, which makes connoisseurs silver back under the arches again and again.
«Village des valeurs» - this is a whole networksecond-hand in Montreal. It is noteworthy that its stores are large, trade both wholesale and retail. The range is not limited to clothing. Here and electronics, home appliances, furniture, garden tools, books.
Photos of Montreal stores