Grozny Airport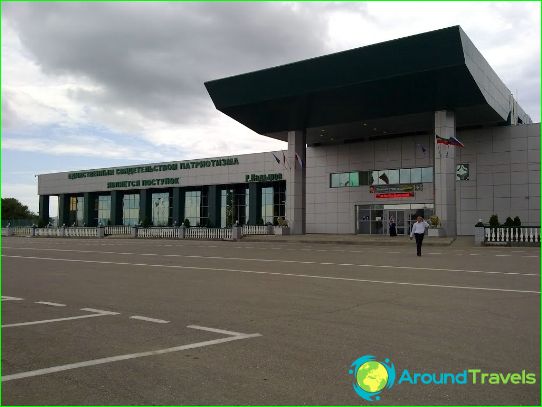 The international airport in Grozny - the onlyairline in the Republic of Chechnya of interstate, is located on the northern outskirts of the city of the same name. Runway length of 2.5 kilometers of the airport is equipped with modern light signaling "Trankson" system radiobeacon instrument approach system ILS aircraft and meteorological Krams system, all this allows the airline smoothly, with a high degree of safety, to make sending and receiving aircraft.
Air Harbor serves large RussianAirlines «RusLine», «UTair Aviation», «Grozny-Avia", carrying out air transportation in Moscow, St. Petersburg, Surgut and other major Russian cities, as well as with the company «Dexter» - taxi, provides regular flights to the Mineral Water .
Technological capabilities allow airlines to take aircraft to service all types of cargo weighing up to 170 tons.
History
The first air cargo and mail transportationGrozny airport performed in 1937 on the aircraft type U-2 and P-5, but then began to be carried out flights of sanitary and agricultural purposes. Up until 1977 the airline had only a dirt runway, enabling aircraft to make small type.
In the late '70s, after the large-scalereconstruction, new airport complex began to take on the modern service while Tu-134 aircraft, connecting the air messaging region with major cities of the Soviet Union.
90 years have brought hardships to the enterprise. His entire infrastructure was seriously damaged during the fighting. But by the early 2000s, rebuilt from scratch Airport resumed cargo and passenger transportation. In 2009, the company received an international status.
Tools and Services
The passenger terminal of the airport in GroznyIt offers modern facilities for a comfortable and safe passenger service. In addition to the standard set of services, there is a dedicated service for business-class passengers who are offered separate check and baggage, without queues and unnecessary formalities, luxury lounges with room for negotiation and the provision of office services, as well as free internet.
Of particular relevance to passengers with disabilitiesopportunities. Qualified personnel of the airline arranges a meeting and support passengers who are unable to move independently. At the airport are equipped with racks for the transport of handicapped persons - wheelchair.
Transport
From the station square in Grozny there is a regular movement of buses, route taxis and city.
Photos of Grozny airport