Cuisine of the Caucasus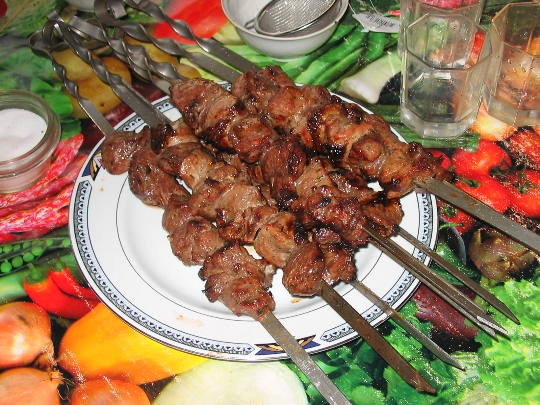 Cuisine of the Caucasus - a variety of peoples of the Caucasus, characterized by high taste and nutritional qualities.
National Cuisine of the Caucasus
Caucasian cuisine is often supplementedsour cream, and in particular dishes of boiled meat - garlic sauce (brine), which is preparing to ayran or broth. Skewer - one of the main dishes of Caucasian cuisine, which is made from beef or mutton (as a supplement used onions, baked tomatoes and eggplants).
If we talk about specific kitchen Caucasianpeoples, for example, in the kitchen and Balkars Kabardians in honor poultry dishes (fried poultry prepared spicy and spicy due to the use in the preparation of thyme, pepper and other spice plants) and mutton, flour, cereals and dairy dishes. As for seasoning, the Caucasian dishes are complemented by black pepper, dill, red peppers, parsley, garlic and cilantro.
Popular dishes of Caucasian cuisine:
"Hychiny" (the mass of minced meat or minced meat with onions, salt and pepper, which is wrapped in dough and cooked on a frying pan in oil or in its own juice);
"Ly gezhag" (grilled meat, seasoned with garlic salt);
"Shurpa" (rich soup made from mutton);
pilaf of lamb;
cakes of unleavened dough with different fillings (cheese, meat, pumpkin, cheese, herbs).
Where to try the national cuisine?
Everyone who is going to satisfy your hunger in the Caucasian cuisine restaurant, should be aware that there will be waiting for them a generous table, fragrant dishes, intimate atmosphere.
In Pyatigorsk, you can look at "CaucasusCourtyard "(where guests are served barbecue, hychiny, kebab, soup, cream of eggplant in rye pot), in Zheleznovodsk - in the" Pearl of the Caucasus "(restaurant pleases visitors of Caucasian cuisine), in Dombai - in" Salaam "(visitors of this cafe offered to taste lagman, rice, shurpa and barbecue, as well as view the ski, snowboard and spidrayd- movies) in Nalchik - in "visit" (in the café-restaurant guests taste dishes of Caucasian and European cuisine and dishes prepared on the grill and enjoy cocktails for every taste and live music).
Cooking classes in the Caucasus
If you decide to get acquainted with the Caucasuskitchen, then, for example, in one of the food outlets Dombai Caucasian chef will offer you to take part in the preparation of national dishes of meat. A tasting of his own cooked dishes will be accompanied by more and tasting wine or brandy.
The arrival of the Caucasus is to conduct podgadatgastronomic festival "Good Food" (Pyatigorsk, June), followed by delicious tastings, bright show program, interesting master classes, or national cuisine festival "Caucasian hospitality" (Nalchik, Kabardino-Balkaria, September).
Photo