Viewpoints Pyatigorsk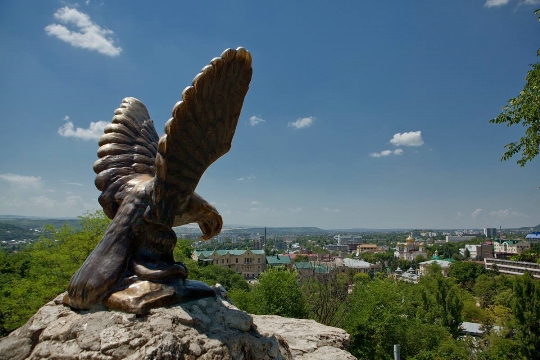 Having made a climb to the viewing platforms Pyatigorsk, travelers will be able to see a different angle Lazarev church, mountain grotto Lermontov, failure, and other attractions.
Mount Mashuk
This monument of nature, a height greater than 990 meters, offers the guests a magnificent view of Pyatigorsk and its surroundings, delighting guests with the presence of the following objects:
Arbour "Aeolian Harp": This observation deck, scenic views, covered with tiles, and a number of benches for rest (night lights switched on here).
Lookout "Sun Gate": this observation platform enables a new perspective to look at the neighborhood "White Daisy" Mashuk (sunset is painted in warm bright colors) and Beshtau.
Cafe "Eagle's Nest": being on top of Mashuk, restaurant pleases visitors panoramic views of Pyatigorsk and the Greater Caucasus mountain range.
How to get there? Travelers should take advantage of the cable car services. The fare for the cable car: there - 210 rubles / adult (5-8 year-olds - 50 rubles), round trip - 360 rubles / adult ($ 100 - children).
Chinese pavilion
This place is quite romanticpopular with locals and visiting guests - nice night here to enjoy the city, flooded with street lamps light, and in the afternoon - one of the best panoramas of colorful Pyatigorsk, Podkumok river, mountains Mashuk and Beshtau. In addition to the gazebo, guests can see the sculpture "Eagle" (it is a symbol of the Caucasian Mineral Waters) and find the "Wish Tree" (for the wish-fulfillment of the tree twigs need to tie a handkerchief or piece of cloth).
How to get there? Before the mountains Hot (south-eastern escarpment) is more convenient to reach from the park "Flower Garden".
Academic gallery
Gallery (in the building of a café and exhibition, whereif you want you can get souvenirs and works of art) has an observation deck with asphalt coating - out views of the city and the park "Flower Garden".
Address: Avenue of Kirov, 1a.
Restaurant "Panorama"
Restaurant treats visitors deliciousCaucasian cuisine, live music, happy, invite them to enjoy nature and rocks from the panoramic windows (fans are provided with individual privacy gazebo with sofas).
Address: Gagarin Boulevard 4a.
Kirov Park
Park pleases its guests with a lake, places forpicnics, tsvetomuzykalnym fountain, "Alley of Love", as well as a variety of attractions, including a 40-meter Ferris wheel, which is out of the booth, with the height, they will be able to admire the beauty of Pyatigorsk.
How to get there? At your service - trams number 1-8 (Address: Street Dunayevsky, 5).
Overlooking top
It is worth noting that travelers if desiredcan stay in the hotel "Alpina" (Address: Street Sergeeva, 237) - it is interesting not only for its convenient location (5 minutes to the bus station, 15 minutes - to the train / railway station), but the presence of its own observation deck overlooking the mountains of the Caucasus .
Photo