Viewpoints Krasnaya Polyana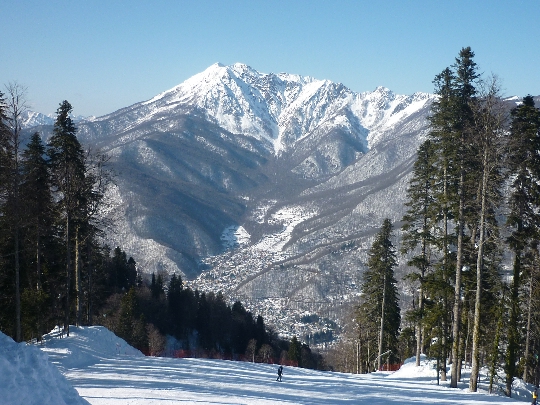 Krasnaya Polyana offers not only skiing novice skiers and professionals, but also climb to the viewing platforms Krasnaya Polyana for inspection of the resort and its surroundings.
"Rosa Khutor"
On one of the lookouts with circular panoramayou can get by purchasing a ticket for 600 rubles ( "Rosa Plateau"); immediately to visit the restaurant "Winter" (located on the second stage of the Rose Farm at a height of over 1,100 m, guests will enjoy views of the surrounding mountains).
And paying 950 rubles, you can manage to climbRose Peak - one of the highest lookouts in Krasnaya Polyana (2320 m above sea level). This amount is on and climb to 2460 meters high (the chairlift Crocus).
If desired, you can get unlimited ticket (1150 rubles), to get the opportunity throughout the day to ride on the cable cars Rosa Khutor.
How to get there? Swallow-speed train will take you to the end station, from where the lifts are within walking distance (the way takes about 20 minutes) or take the free shuttle bus of the resort.
"Mountain Carousel"
It has at least five viewingplatforms at different heights. So by purchasing a ticket for 300 rubles, you go up to 960 meters high. By purchasing a ticket, costing 700 rubles, you will realize rise to a height of 1500 m (you will find a playground for review, with sun loungers and a mini-cafe, hence will be able to enjoy views of the mountains), and for 900 rubles - a 2,200-meter height (from the top in good weather you can see the surrounding mountains and even the sea).
How to get there? By car or bus you need to get to Gorky Gorod (parking is free).
Restaurant "Top"
Active relaxing on mountain slopes, wishingwill be able to visit this restaurant (its highlight - 2 rooms with panoramic windows), located at 2200 meters above sea level (there are dishes of European menu, Italian, Russian cuisine; there is a baby and banquet menu, as well as the opportunity to enjoy the author's masterpieces from chef), to enjoy the best views of the ski resort. Location: "Mountain Carousel", all 3 cable car; official website: www.vershina2200.ru
Excursions
"Psekhako": on the ridge is an observation deck Psekhako station "Mountain shelter-1" - hence the offer to admire the panorama of Gorno Pole and landscapes Aibginskogo Ridge (ascent to 1400 meters high by gondola A or A1 may be perfect). Tour price - 650 rubles.
"Panorama of Krasnaya Polyana": tour of the cable cars will enable Gazprom to admire Aibginskim ridge (its peaks are interested climbers) and the top of the mountain Chugush. The cost of guided tours - 1,100 rubles / adults, 550 rubles / children 7-12 years.
Photo