Rest in Krasnaya Polyana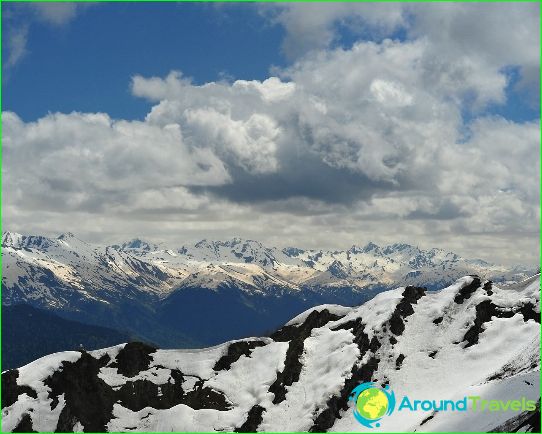 Rest in Krasnaya Polyana is popular with skiers, active travelers, lovers of beautiful nature and mountain-sea climate.
The main types of recreation in Krasnaya Polyana
Sightseeing: sightseeing tours involve visits to the church of St. Charalambos and bee nursery. Wishes to explore the natural attractions can visit the lakes Chmielewski, in a cave deep Yar, on the ring and waterfall Brothers in Dzyhrinskom gorge.
Active: skiers and snowboarders recommended to visit Krasnaya Polyana in December and April (the services of tourists - ski resorts Laura Alpika Service, Rosa Khutor Mountain Carousel): descents like here can find beginners and pros. In addition, there is even a track for night skiing, and for freeride conditions for skiing is en-route. It is worth noting that during the ski season at the resort every week arranged "Snow Show". As for active entertainment in the summer, autumn and spring, the guests of the resort at this time can paraglide, ride on horseback, ATV and jeep tours, rafting, rock climbing, zorbing (you go down from the mountain inside a transparent ball), caving, play paintball. Regardless of the time of year, you can relax in the entertainment complex "GreenWood" - there is a nightclub, a bar, a restaurant, a billiard room.
Wellness: for the recovery of used climatotherapy (mountain air) and water from the mineral springs (Psluhskie sources; Engelmanova Glade). You can take an example from many travelers and a few days to live near sources, smashing nearby tent.
Prices for tours in Krasnaya Polyana
Depending on the purpose, to rest in Krasnaya Polyanaall year round. Increasing the cost of vouchers (30-70%) observed in December-February, and in May and September. More profitable for the price you can buy a tour in October-November and early April.
On a note!
If desired, through a special mountain tunnels youYou will be able to get out of Krasnaya Polyana Adler and nearby beaches - for that you should use the services of taxi (cost specify before the trip).
If you are - beginner skier, who wants to be trained, at your service - excellent ski school.
In memory of the holiday in Krasnaya Polyana can bebring chestnut, blackberry, lime honey (it is advisable for him to go to one of the apiaries or in a specialty store), tea with a variety of herbs, liqueurs and balms, infused with fruit and herbs, furnishings, ceramics.
Photos rest in Krasnaya Polyana