The season in Dombai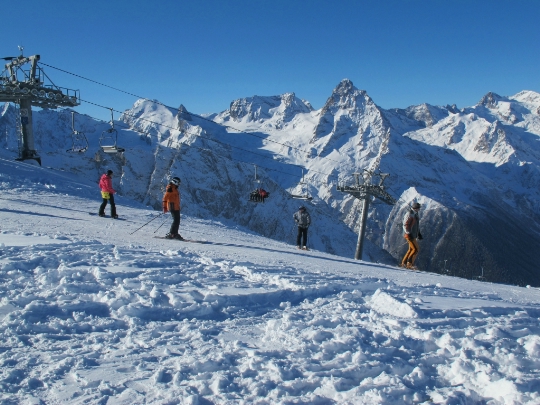 Dombay is located in the North Caucasus and fromterritory Dombai clearing the same distance and the Black Sea coast, and the highest peak of Mount Elbrus Russia. For fans of rest in these places the concept of "the season in Dombai" does not exist. It is equally interesting and winter period of the ski resort, and in summer, when the beauty of the Teberda Reserve are available for hiking and excursions.
The weather and nature
Dombai glade stretches at an altitude of more thanone and a half kilometers above sea level. It is formed by the confluence of three valleys. The southern boundary of the territory of Dombay mountain passes along the main ridge of the Greater Caucasus and the highest elevation is a more than four-kilometer peak Dombai-Ulgen.
The climate in the mountainous area called Dombaytemperate continental. It says a large number of sunny days per year and mild air temperatures allow even the most desperate sunbathing, riding on skis.
Ski Dombay
One of the main tourist destinationsmodern Dombai - the ability to engage in skiing and snowboarding. Sports season in Dombai starts in late November, when established stable snow cover, and the air temperature drops to -3 degrees. Trails at the resort and can satisfy the most advanced athletes, and "green" newcomers. By the way, the last service in the winter season at Dombai run school ski and snowboard skills. Experienced instructors will give a collective master classes and individual lessons.
a conservation trails
Fans of hiking and excursions in the mountainsThey prefer the summer season at Dombai, when you can walk to the most famous sights of the Teberda Reserve. Natural Beauty incorporated even in the list of world heritage by UNESCO. Summer weather here makes it comfortable to be outdoors: the temperature does not rise above 25 degrees even in July, and the bright sun rescue sunglasses, hats with brims and beauty products for skin protection.
In Dombai can be arranged and beach holidays. On its territory is located a few mountain lakes, where the water in the heat of the summer warms up to 20 degrees or even more. On the banks of ponds are equipped with space for sunbathing, changing rooms, and cafes and restaurants with national dishes Caucasian cuisine help make the holiday a full and comfortable.
Photo