Tours in Pyatigorsk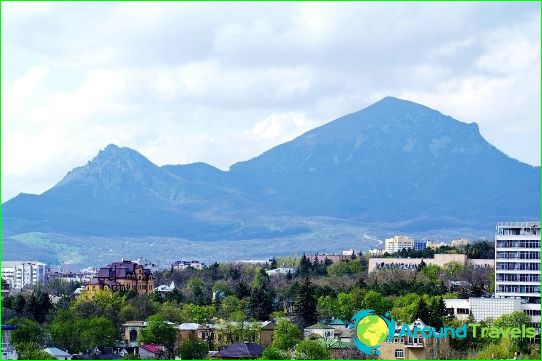 Among other southern cities of the country, it is highlightedespecially because for a long time Pyatigorsk has a status of the main mud and Russian spa resort and tourist center of the Caucasian Mineral Waters. Lovers of fresh mountain air and magnificent scenery preferred to buy tours to Pyatigorsk hundred years ago, but today the resort has many loyal fans and the entire post-Soviet space.
On the slopes of Beshtau
That's the name of the famous mountains gave the namea spa town, in fact, translated from Karachai Beshtau means "five mountains". City appeared on the map of the Russian Empire in 1830 and immediately began active construction of hospitals and health centers. The second half of the XIX century was marked by high royal attention, and the resort became the summer residence of the imperial family.
Then the foot of the mountain Beshtau was connected direct rail link with Moscow and tours in Pyatigorsk proved very popular with holidaymakers of every persuasion.
Today Pyatigorsk resorts have a widerange of medical resources. One only mineral water here, there are more than forty species. Sources differ on the composition of water, and the temperature and the lake Tambukansky generously shares with the people of healing mud.
Briefly about the importance
Going on tour in Pyatigorsk, travelers choose motels and hotels, where the city has about fifty.
Getting to the city is possible by air orrail. Mineralnye Vody Airport is connected to the resort by bus and on the passenger station Pyatigorsk arrive daily trains and trains from different cities of Russia.
The climate of the resort is characterized by a hot summerweather. Thermometer in July and August often rise to 35, but most stop at around 27 degrees. Winter in Pyatigorsk is freezing and the temperature can drop to -10. Another feature of the winter climate - frequent fogs and fairly high humidity.
For those who are going to book toursPyatigorsk, is of great interest and the nature of the North Caucasus. The resort offers excellent conditions for various kinds of tourism. In Pyatigorsk, you can spend time on foot hike in the surrounding mountains, enjoy cycling, to reach the summit of Mount Mashuk and Beshtau and succumb to the charm of communication with magnificent horses in equestrian excursions.
Photo