Chile Beaches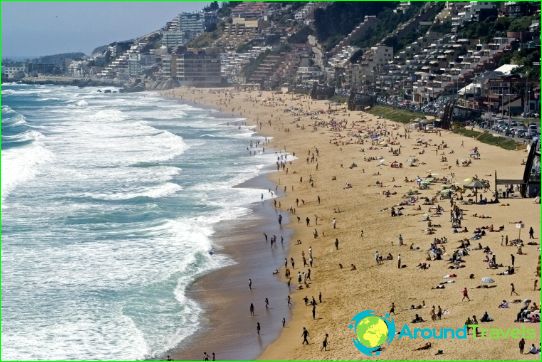 Chile - a very colorful country, one of the mainfeatures which consists in its unusual location. The length of its territory is more than 4,300 kilometers, while the width is just one hundred and seventy. With such a ratio of almost the whole territory of Chile is located along the Pacific coast. This feature of the location led to the diversity of its natural environment. In this country, there are a variety of sometimes completely opposite climatic conditions - from the barren desert to the abundant vegetation of the tropics. Also, due to geographical conditions a significant part of the country is Chile's beaches.
Most of them, in addition to the traditional beachrecreation, also has excellent facilities for active sports. Especially a lot of possibilities for windsurfing are on the beach of Valparaiso and Balneario. Ardent sailors also will be satisfied with such beaches as Balneario and Quintero. A deep sea calm Algarrobo different, so here are thriving scuba diving and fishing. The convenience of its location, as well as the creation of opportunities for comfortable rest and sports, the beach has become a kind of center for some water sports. There is also regularly hosts a variety of events, including an international scale.
Viña del Mar
The best sandy beaches in southern Chile locatedpart of the country. Here on the coast has a Mediterranean, and sometimes even a tropical climate. The most popular among tourists are the beach resort of Viña del Mar, where an unusual combination of white sand and rocks located in the distance creates a very picturesque sight. The beaches are equipped with everything needed for a comfortable stay, in particular, there is a convenient parking, changing rooms and showers. The city has many hotels, among which every tourist can choose the appropriate option. In addition, the resort is famous for its award-winning spa.
Arica
The best beaches for family holidays located inArica. This region is considered one of the cleanest in the country due to the complete absence of industrial enterprises. In the city well-developed infrastructure, including the entertainment industry, so either the adults or children during the holidays will not be bored. The proximity to the neighboring country of Peru creates excellent opportunities for profitable shopping. Arica Beaches differ amazingly clear water and gentle slope, so are considered as safe for swimming.
Photos Chile beaches