Traditional cuisine of Chile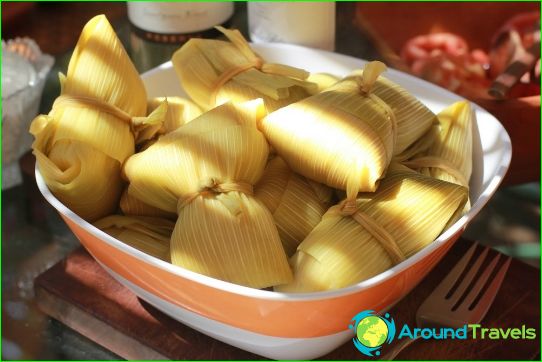 Dining in Chile it is characterized by the fact that the Chilean food is almost no different from the European, but on food prices in local institutions by South American standards, quite high.
Food in Chile
On the Chilean cuisine was influenced by the Spanish,German, Croatian, Italian, French and culinary traditions of the Middle East. The diet consists of Chileans vegetables, rice, meat, fish (yellowfin tuna, sea bass, hake, eel, salmon), seafood (oysters, crabs, shrimps, sea-urchins, mussels).
In Chile should taste pies stuffed with meatwith the addition of eggs, olives, raisins and onions (empanadadepino); steak garnished with fried potatoes and eggs (lomo a lopobre); cheese dough (empanadadequesto); meat, grilled over charcoal ( "churasko"); appetizer of raw fish, which had previously been marinated in lemon juice with butter, pepper and onions (ceviche); tortilla with seafood ( "Tortillas de mariskos"); spicy dish based on rabbit ( "Picante de Conejo"); soup of sea urchins.
A sweet tooth can enjoy cotton candy, waffles, caramel nuts, corn grains with dried peaches (Mote con uesiyos), honey cakes (Mariscal).
Where to eat in Chile? At your service:
cafes and restaurants where you can order dishes of Chilean, Japanese, Arabic, Indonesian and other exotic cuisines;
churraskarii (restaurants specializing in meat dishes);
salonesdete (these tea salons can be ordered sandwiches, sweet pastries, cakes, ice cream, juice and other snacks);
Fast food restaurants (McDonalds).
If you crave discovery, be sure to visit the restaurant "Borag" in Santiago - here you will be served a vegetable puree, garnished with branches and flowers and ice cream, frozen with liquid nitrogen.
Drinks in Chile
Popular Chileans drinks - tea, coffee, wine,pisco (grape brandy), mangosour (pisco with mango juice), beer. In Chile, it is worth trying the beer Escudo, Royal Guard, Crystal, Kuntsman, as well as the wine Carmenere, Casablanca, Cabernet, Sauvignon.
Buying alcohol, it should be noted that in Chile,Unlike other Latin American countries, it is forbidden to drink alcohol in public places. In addition, you can not purchase such beverages from 3 o'clock to 9 o'clock in the morning (the country has restrictions on the sale in time).
Gastronomic tour in Chile
As part of a gastronomic tour of Chile, youvisit the restaurant El Galion Mercado Central (here you will be treated to seafood) and Aqui Esta Coco (here you can taste Chilean dishes in a room with an unusual interior). In addition, you will visit the winery Caliterra, where you will be able to taste such wines as Caliterra Tributo Malbec, Caliterra Tributo Carmrnere, Caliterra Reserva Sauvignon Blanc. On the territory of the winery you will be allowed to ride a horse, and then you will be invited for lunch barbecue.
Trip to Chile - a great opportunity to combine leisure with a wide gastronomic program.
Photos of Chile national dishes