Food Chile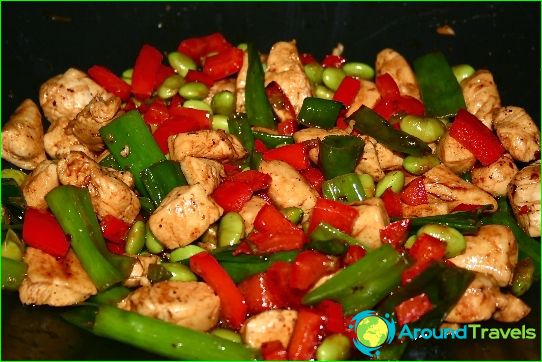 Chile Kitchen is a combination of recipesindigenous peoples with the Spanish traditions. It was formed under the influence of cooking in Italy, France, Germany, Croatia. On her kitchen was influenced by a number of Middle Eastern countries. Food Chile abundance of marine gifts. After all, the country's coast is rich in fish, shellfish and other marine creatures.
Brief description of the Chilean dishes
Most popular among the local seafoodpopulation: eel, salmon, European Sole, sea bass, tuna, crab, oysters, mussels, sea urchins. Chileans consume meat, especially lamb spread. Beef is usually added to the asado, which is a traditional dish of the country. In many recipes found chicken. While Chileans say chicken meal second grade.
Many dishes use together with wine. Chile rightfully stands the largest wine producer in the world. National cuisine of the country is no different sharpness, despite the fact that the name of the state, many associated with hot peppers. This serves Chile are nutritious and hearty. This state is considered the most Westernized among South American countries. This fact was reflected in the cooking, because many recipes are similar to European ones.
The best dishes of the Chilean cuisine
These include local masterpieces that have notcounterparts in other countries. These include soup Courant, which is made from shellfish, fish, lamb, beef, poultry, pork and potatoes. Courant residents prefer to do the northern part of the country, as well as the population of Easter Island. Identity dish is a soup of sea urchins. In addition to the soup for lunch offer the option of local bread - cakes made of corn flour, designated humitas. Snacks can serve empanadas - delicious pastry stuffed with tuna, olives and meat.
To the list of classic Chilean dishes include humitaor Umit. It was prepared for centuries Indians, who inhabited the territory of Latin America before the Europeans arrived. Each region has its own nuances of cooking Umit. Usually, this dish takes corn dough, basil, onion, butter and green chili pepper. The leaves corncobs wrapped stuffing. Further, each sheet tied with string or rope to the stuffing stayed inside. Then the leaves are boiled or baked. Umit taste can be sweet, sour, sweet or spicy. Hostess at its discretion to add chili pepper, sugar, tomatoes, salt and olives. But the traditional recipe suggests that the dish should be simple and not spicy taste.
Chilean Umit is applied in the form in whichit is prepared - in the form of an ear, tied around thread. Before the start of the thread of the meal need to unleash and develop leaves. Corn leaves in food are not used. The most popular food fish is Caldes de ling. Meat dishes Chile - a cazuela, pariyyada, lomo a la pobre and others.
Photo