Chile Population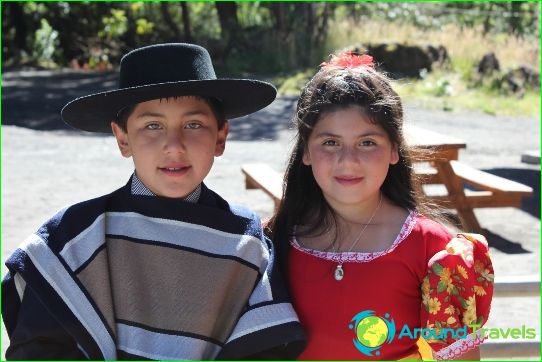 Chile's population is more than 17 million people.
National composition:
Chileans (Mestizo);
other people (Indian tribes, the French, Germans, Basques, Irish, Croats).
In the 1st quarter.km is home to 20 people, but the vast majority of residents (90%) occupies the central region (population density in Santiago - 355 people per 1 sq km), and sparsely populated are some areas in the south.
The main group of Indians make up the Mapuche,Aymara and Rapanui. Mapuche inhabit south Aymaras - north of the country, and Rapa-Nui - Easter Island. With regard to immigrants from Europe (Germans, Irish, French, Croats and others), they live in the southern regions of Chile.
Official language - Spanish, but common languages ​​are still English and German.
Big cities: Santiago, Antofagasta, Puente Alto, Viña del Mar, Talcahuano, Valparaiso, San Bernardo, Temuco.
Residents of Chile profess Catholicism and Protestantism.
life expectancy
Female population on average live to 77 and men - up to 70 years.
Among South American countries, these figures are quitehigh. This is largely due to the fact that health care in the country is allocated $ 3,300 per year for 1 person. In addition, Chileans smoke 3 times less inhabitants of the Balkan countries, Russia and Ukraine (Chile ranks 58 in the world in the consumption of cigarettes per capita) and consume alcohol in 2 times less than the Estonians, Czechs, Russians and French. But among the people there is a fairly high rate of obesity - 25%.
Going to Chile? 2-3 weeks before the trip it is advisable to make a vaccine against hepatitis A and B, diphtheria, tetanus, typhoid fever.
Traditions and customs of the inhabitants of Chile
Chileans - friendly and very pleasant to talk to people, always ready to help.
Of interest are the Christmas traditions of Chileans. New Year's mascot is the vine: to make a wish come true, at midnight, you need to nip off from the vine 12 vinogradinok and eat them. And to the whole year good luck in love, the New Year is required to wear red stockings, socks and garters. In addition, on New Year's decided to burn a straw man, which is a symbol of all the troubles of the year. And on New Year Chileans go to the cemetery to celebrate this holiday with dead relatives.
If you are going to visit Chile, is available with the following information:
the country is forbidden to smoke and to drink alcohol in public places (violation of the law will entail a fine);
in communion with the Chileans not advisable to talk about politics, the Pinochet regime and reforms;
If you are invited to visit, know how to answer a call on the mobile phone while eating - bad taste;
Chileans appreciate punctuality, so it is desirable to come to the meeting on time.
Photo