Chile Resorts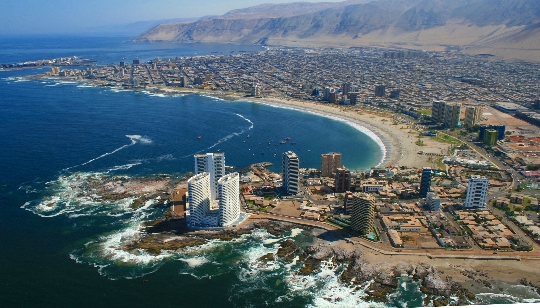 Due to its location in the southern hemisphere,Chile is particularly interested in the domestic traveler seasons "on the contrary". Russian calendar summer is quite possible to go skiing, and from December to March, the beach resorts of Chile - a place where no room to swing fall from those who enjoy the pleasures of the Pacific Ocean and its beautiful coastline. In other words, in addition to an interesting excursion program and the magnificent natural landscapes of national parks, a country in South America and is able to attract the attention of the classical holiday resorts.
Garden City on the ocean shore
At the end of the XIX century Chilean strong "this world"We began to build cottages and houses in the village not far from the industrial metropolis of Valparaiso. Turning the Pacific coast in the garden city, the Chilean know for more than a hundred years will not change their habits for a vacation in Viña del Mar.
In this century, the resort has had on Chiletaste and Russian travelers. South America tasted the taste, they came to the conclusion that the garden city - a perfect place for those who like to warm their bones on the hot sand, regardless of the number of zeros in the price of the ticket.
In the shadow of Rio Elki
On the heels of Viña del Mar with confidence comes morea beach resort in Chile. At La Serena have a distinct Pacific over other cities in the region advantage - the resort is located near the valley of Rio Elki, famous on the continent splendid fruit plantations. No less attract travelers to the beaches of La Serena and the local wineries, because the desire to taste excellent wines on vacation and no one has repealed the Southern Hemisphere.
Always in the TOP
For some time now familiar ski resorts in Chile real fans of winter recreation and in Russia. Although, in the case of the southern hemisphere, it is fair to call them summer:
Valle Nevado referred to as the world's top listski resorts. The altitude of three thousand meters and having slopes of all degrees of difficulty make it the most popular in the country. On the slopes of Valle Nevado has the opportunity to do heli-skiing and paragliding.
Portillo - Chile's oldest resort and itsInfrastructure is one of the best on the continent. Instructors of the local school listed in the world, and four types of tracks let you feel perfectly at local slopes and gurus and beginners.
Photo