Airports in Costa Rica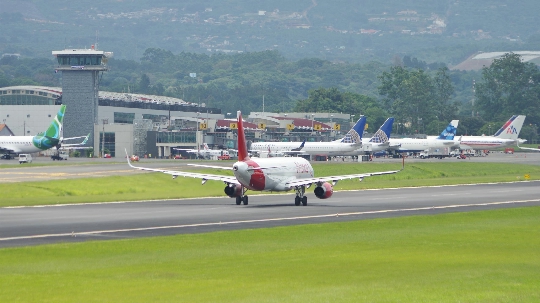 Dozens of airports in Costa Ricaallows interference-free access even to the most remote areas of the country. Tourism here every year is gaining momentum and see the untouched jungle, exotic birds and unique beaches with black volcanic sand and fly travelers from Russia. No direct flights between Moscow and San Jose yet, but with transfers in Madrid and Havana is easy to get here on the wings of airlines Iberia Airlines and Cubana with a connection in Madrid and Havana. Travel time excluding direct around 15 hours.
The international airports in Costa Rica
The right to take international flights are several airports in the country:
Air Harbor to Liberia, in Guanacaste province. City, where the airport is located a half hour from the famous Pacific resort at Golden Riviera Costa Rica.
International air port in the southern part of the LimonCaribbean coast resorts caters Cahuita, Puerto Viejo and Manzanillo. The main carrier of this region - the company Nature Air, the board which make flights to Limon from the capital San Jose country. In spite of the international status of this airport in Costa Rica is not currently accept aircraft from abroad.
Tobias Bolaños Airport is named after the pilot,laid the foundation for aviation in the state. Air Harbor directly in the capital, and here daily land side of airports Liberia and Tamarindo.
The main international airport in Costa Rica is located 20 km from San Jose and that he accepts the bulk of foreign tourists.
metropolitan area
Airport in the capital of Costa Rica is called Juan Santa Maria. It is the second busiest in Central America after Panama and caters annually to 4.5 million. Passengers.
In the airport terminal relegation zone allowedOnly passengers with printed e-tickets or boarding passes. Departing from Costa Rica will have to pay airport tax, the amount of which is in US dollar terms, about $ 30.
Home airline based in this port,- Avianca, and besides it their planes here send more American Airlines from Miami and New York, Delta Air Lines from Atlanta, United Airlines from Chicago and Washington, and US Airways from Charlotte.
Air Canada brings in Costa Rica airport travelers from Toronto, and British Airways - from London. Cubans and Spaniards fly from Havana and Madrid, respectively, and Aeromexico connects San Jose to Mexico City.
Capital Air port has two terminals, of which for domestic flights is responsible Terminal D, and all international land at Terminal M
Transfer from the airport is possible by publictransport or taxi. In addition, the hotel is very popular pick-up service of their guests at the airport, which minimizes the risk of a language barrier with the taxi drivers and bus, not knowing English.
Photo