The best resorts in Costa Rica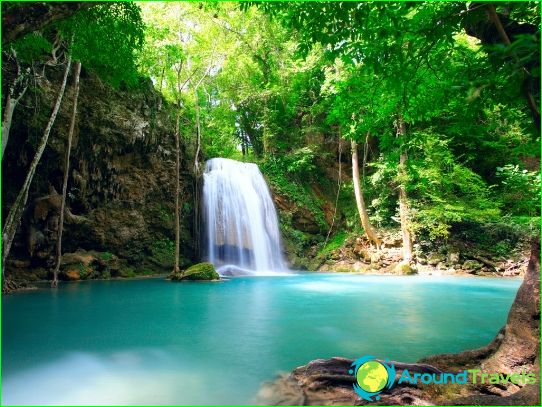 Travelers who have visited at least onceCosta Rica called the country the most beautiful places on the planet. And this opinion is not without reason. Here is everything - and the endless mountains, and many national parks and reserves, volcanoes and black sand beaches, magnificent waterfalls and, of course, the best beaches of Costa Rica. Is not it a tourist paradise?
Ganakaste
Stunningly beautiful beaches, hot sun, lots of hotels and other tourist delights - this is what makes this particular province of the country, highlighting it in the eyes of the tourist world.
Coco beach town attracts a vibrant nightlife. There is always going to lots of people. A Flamingo beach - the perfect combination of first-class holiday in almost complete solitude.
Ganakaste Beach area - Hermosa and Ocotal -They are a huge hit with visitors to this province. In the southern part of the beach is located Ganakaste Grande. It is interesting that thousands of leatherback turtles Baula chose it their home, so tourists here given a completely unique opportunity to observe them in their natural habitat. It sands of this beach are the birthplace of the little turtles.
Tamarindo Beach area - a very picturesque place. Beautiful beaches surrounded by mangrove trees, creating a truly unique atmosphere of harmony with nature.
Puntarenas
Puntares - the largest city and capital of the countryhomonymous province. A stay here and not try the local coffee - an unforgivable mistake. The local drink is surprisingly sweet and rich flavor without bitterness characteristic of coffee. In addition to this divine drink should definitely eat dishes of national cuisine. Especially people here manage to fish cooks.
Excursion "highlight" Puntaresa - Poas Volcano,which I would have to visit every guest of the city. And tourists are entertained quite exotic walk - journey along the river, where crocodiles live. Of course, this is not the Amazonian alligators, but nevertheless quite interesting to watch these predators in their familiar environment.
In general, Puntares associated with the huge resort-reserve, because there are a lot of parks and protected places, where there are rare species of animals.
Lemon
This is another resort area, located on theCaribbean coast. Holidays in Limone - is a great opportunity to really enjoy the beautiful port city, which has become the venue for numerous festivals. Here in the fiery rhythms of the "reggae" and strong Jamaican rum.
City seemed designed to relax and givesthe opportunity to relax in a very calm, and above all cheerful atmosphere. Locals are only costumes that adds a colorful recreation.
Photos resorts of Costa Rica