The traditional cuisine of Costa Rica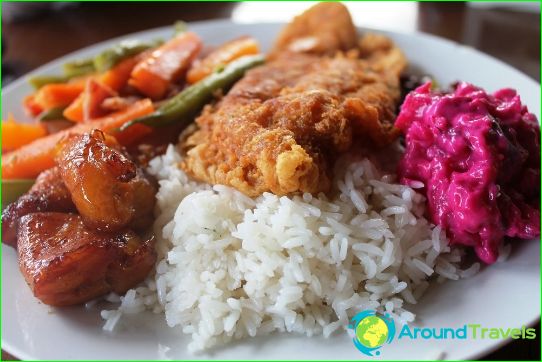 Food in Costa Rica is characterized by the fact that itsvalue is higher than in many countries in Central America, but lower than in Europe and the USA. It is worth noting that the cost of food depends on whether you use local or imported products: cheaper to buy them at farmers' markets. If you prefer to buy imported wine, expensive products from meat and other goods brought into the country from abroad, then your expenses for food will increase by 2-3 times.
Food in Costa Rica
In the Costa Rican cuisine was influenced by the Spanishand Indian culinary traditions. Costa Ricans Diet consists of meat, fish, legumes, vegetables, fruits, rice, seafood (oysters, shrimp, crab).
In Costa Rica, it is worth trying the hot blackbeans, seasoned with garlic and various spices (frijolesnegros); savory fried green plantains (patacones); pies of flaky pastry with sesame seeds stuffed with cheese, vegetables, chicken or potatoes (empanados); rice with beans and vegetables (casados); baked fish (laplancha); boiled sea fish with lemon juice, coriander and onion (ceviche); thick soup with beef, vegetables, spices and various herbs (olladecarne); dish of minced beef with vegetables, tomato puree and garlic (picadillo).
Sweet tooth can enjoy sweet fried bananas with cheese (platanosmaduros), exotic fruits (passion fruit, mango, papaya, Maranon, mamones), pastries and cakes.
Where to eat in Costa Rica? At your service:
cafes and restaurants where you can order food and other Costa Rican cuisine (in the country opened Chinese, Mexican, French and other restaurants);
restaurants of international fast food chains(KFC, McDonalds), "soda" (local fast food places), LasBrasas (large network of eateries, offering its visitors to taste the traditional local cuisine).
Local dishes are seasoned with virtually no exotic spices, but on your desk in any food establishment will be present with ketchup or chilli bottle.
Drinks in Costa Rica
Popular Costa Rican drinks - coffee, herbaltea, Refrescos (a refreshing drink of water, fresh fruits and sugar), fruit juices, rum, local coffee liquor, beer. Beer lovers can taste Imperial, Bavaria, Pilsen, and fans Roma - Centenario, Platino, Cacique, Abuelo.
Gastronomic tour in Costa Rica
Going to Costa Rica, you will visit the picturesque farms and coffee plantations, taste Costa Rican cuisine in the restaurants and in local villages visiting local residents.
Holidays in Costa Rica will open the local to yousplendor - mountains, active volcanoes, lush rainforests, wonderful nature, national parks, caves, waterfalls, beautiful beaches, unusual Costa Rican dishes.
Photos Iceland national dishes