Airports in Cyprus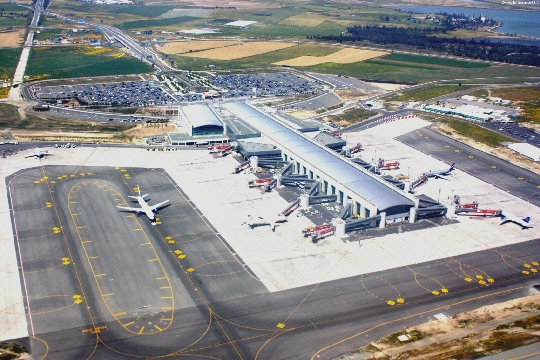 The beaches of the island of Aphrodite loved Russiantourists for cleanliness, food - for the generous portions, and the weather - for a special softness and a great number of sunny days. Airports of Cyprus take the height of the season a large number of travelers who arrived from Moscow on regular flights of "Aeroflot" and charters. Travel time from the Russian capital to Cypriot air harbors ranging from 3.5 to 4.5 hours, depending on the airline.
International airports in Cyprus
Divided into two parts, the island of Cyprus hasits credit three international airports, one of which is located on the territory of the Turkish Republic of Northern Cyprus and the rest are under the jurisdiction of the Republic of Cyprus:
Ercan Airport is 13 km from Nicosia readyshare the details of their schedules and other important information to passengers on the website - www.ercanairportnorthcyprus.com. The city where the airport is located, is divided demarcation line and serves as the capital of both the Republic of Cyprus.
The main airport of Cyprus in the south-west - airharbor in Paphos. From the city airfield separated by only 6 km away, however, and to the other resorts in Cyprus here are not too far away - Limassol, for example, is less than an hour away. Seasonal flights to Paphos from Domodedovo performs airline S7, and the constants of the Vnukovo - "Transaero". List of passenger services includes restaurants, banks, cafes and shops Duty Free, car rental and souvenir shops, currency exchange offices and rest rooms for parents with children. Transfer to the resorts is carried out on buses. Ticket price to Limassol - € 10 August 2015. Clarify details -www.cyprusairports.com.cy easily on site.
The most popular among Russian travelersCyprus Airport is located 4 km south-west of Larnaca. The only terminal receives many flights from different countries, including - planes "Aeroflot". For more information visit - www.cyprusairports.com.cy.
metropolitan area
Metropolitan Air Harbor Island is located on theTurkish territory, and it is used by tourists who arrived on holiday in the resort of Northern Cyprus. Airport appeared on the map of the island during World War II as a military airfield of the British Army.
These airlines fly from Turkey, Denmark,Belgium and the Turkish company Freebird Airlines operates flights to some European cities and capitals - Berlin, Amsterdam, Brussels, Paris, Vienna and Zurich.
On the beach resorts
Cyprus Airport in Larnaca servicesthe eastern part of the country and is the largest on the island. Only a terminal departure area on the upper level and the arrivals hall - on the bottom.
For those wishing to take a car to rent inpassenger terminal opened rent-car offices. The cheapest transfer to the city is available on bus routes 417, 418, 419 and 425. A taxi will cost considerably more expensive. From the bus station Larnaca you can reach the resorts of Limassol and Ayia Napa.
Photo