Nicosia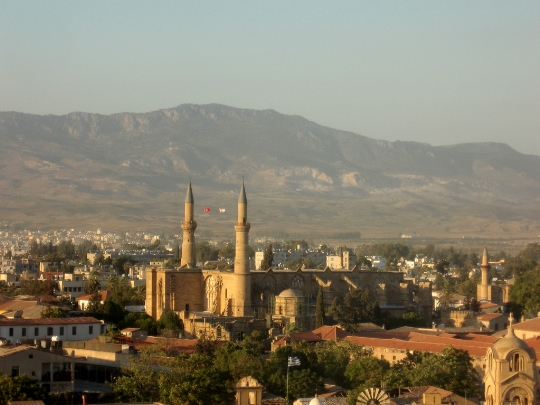 Want to know what are the areas of Nicosia? Check out their features.
Names and descriptions areas
New town: he sheltered in their territories community service, clubs, modern shopping malls, and even then often hosts international conferences and symposia.
Old city: here tourists can go for new clothes in the local shops, located on the shopping streets Onasagoroui Lidras, make beautiful pictures from the observation deck Shakolas mall to buy interesting things in craft workshops and craft shops, explore the Venetian walls (fortress includes 11 bastions, walls were erected in 16th century to protect the city from the enemy; they are surrounded by park, where guests are entertained in the summer concerts in the open air), Cathedral of St. John the Divine (special attention should fresco with biblical scenes) and other objects.
Nicosia Attractions
"Armed with a" tourist card, you can manageget acquainted with the iconic site of the capital of Cyprus - Library of Sultan Mahmud II (example of Gothic architecture, still Mosque - a prayer house, go where you want in modest clothes, removing the shoes), Selimiye Mosque (exterior decoration - a rare print of the Sultan, and internal - Arabic calligraphy and greek columns, library - store more than 1,800 books, some of which are hand-written), the Archbishop's Palace (it is recommended to visit the Byzantine Museum, which will be able to admire the church utensils, statues, a collection of icons, some of which belong to the 7th century, and the Museum folk arts, which offer visitors to learn more about the life and works of the Greek national at different times), the church Hrisaliniotissa (famous for its collection of Byzantine icons), Gallery of modern art (here is to look wishing to admire the sculptures and works of contemporary painters).
Where to stay tourists
Wealthy tourists and businessmen canstay in hotels belonging to global chains such as Holiday Inn (provide guests with Internet access, a conference rooms and gyms, fitness centers and beauty salons).
Special demand "Hilton Cyprus" (from 120 euros), as in walking distance from it there are interesting places.
Travellers who prefer to stayin a comfortable 4-5 star hotels, it is worth to look for them in the center of Nicosia or near him, so that they may come "Cleopatra Hotel" (from 75 euros) or "Hilton Park Nicosia" (from 100 euros). As for the cost of housing, it is necessary to look at the "Executive Suites" (30 euros).
Photos Nicosia districts