Tours in Ayia Napa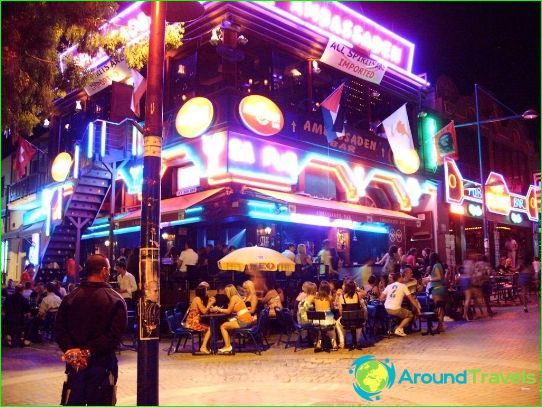 This Cypriot resort has a reputation for localIbiza: a beach holiday by the sea is richly flavored colorful and vibrant nightlife, and even calm fathers up to the third night, come down from the balcony of a cozy room on the dance floor in order not to lose in vain forced insomnia a minute of precious time. Sleeping while on tour in Ayia Napa will have little, but be aware of the latest novelties of club music and taste all the fashion of the season cocktails from the best bartenders in Europe - turn out for sure.
History and geography
The most easterly resort on the MediterraneanCyprus island is named after the monastery founded here in the XIV century. The name of the monastery means "holy wood", as once these places are covered by lush Mediterranean vegetation. Found in the old days in these parts miraculous icon inspired people for the construction of the monastery, which is now a museum of religion and history.
Blue flags
Unlike other beach areas of Cyprus,Ayia Napa has become accustom Russian tourists recently. Tours in Ayia Napa are especially popular not only among fans of the night partying, but also travelers with children because the local beaches - the cleanest on the island. The prestigious Blue Flags awarded an ideal resort for its contribution to environmental conservation, not just stayed in this sand.
Sunbeds and umbrellas on the beaches of the resort fee, but by giving a small contribution, a tourist can always count on comfort, cleanliness and respect for staff.
Briefly about the importance
International Airport, from where you can start the tour in Ayia Napa, located less than an hour's drive from the resort in the town of Larnaca. To get from the terminal by bus is cheapest.
Rent car in the city is, but very popularIt enjoyed only by those who have decided to take a tour around the island. In the same city, all distances are overcome by foot within a few minutes. The more that prices for car hire are impressive, and the parking spaces at all traditionally lacking.
The season starts at the resort in late April, but for a comfortable bathing have to wait for mid-May.
When choosing a hotel, the participants tours in Ayia Napa isassess their opportunities for nightlife. If the traveler has no plans to unbridled fun until the morning, it is necessary to carefully read the reviews about the hotel and choose the one that is built away from the clubs and restaurants.
Photo