Water parks in Ayia Napa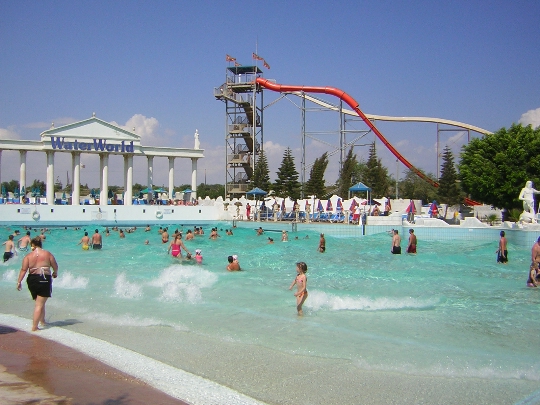 Waterpark in Ayia Napa, stylizedGreek myths, will please fans as "calm" and more extreme water rides - you can forget about the problems and enjoy outdoor activities!
Waterpark in Ayia Napa
There is a water park "Water World" are:
slides "The Quest of Heracles", "The Fall of Icarus", "Serpentine Slides", "Drop to Atlantis";
"Lazy" river, Atlantis Activity Pool swimming pools with nets and crossings, Pegasus Pool with fountains, Greek columns and sunbeds, Poseidon's Wave Pool (wave pool), Aphrodite's Bath;
maze Minotaur's Labyrinth and the playground Danaides Waterworks;
food places.
Entrance fee -38 euro / adults from 13 years and€ 24 / 3-12 year-olds. You can buy a season ticket (the cost - 55 euros, including, and for a child), then you will be able to visit the water park on any day in unlimited quantities, only for each visit will have to pay 1 euro.
Water Activities in Ayia Napa
Attention travelers deserve Beach Nissi Beach - on the waterfront entertainment are available in the form of banana boating, playing volleyball, sailing.
Look for silence and solitude? Look closely at the eastern end of the beach. As for lovers of partying, then it is expedient to move the evening on the central part of the beach where there are arranged foam parties and discos.
Regardless of the travelers inquiries, they certainlylike another beach - Makronissos Beach: it awarded the Blue Flag, it is famous for a gentle entrance into the sea and the lack of reefs and sharp shells, which is important for children's activities. Well and active tourists there will be other things to do - namely, diving, water skiing and boating.
From Ayia Napa if you want you can go on boat trips to Cape Greco, sea caves, Protaras.
Novice divers will be offered to makeimmersion in Green Bay: at a depth of 3 m is fish feeding rock - beginners can feed the fish with bread. At the bottom of the gradual study they will be on a sandy plateau, where in front of their eyes appear sunken city - there can be found the fragments of ancient amphorae, meet with rainbow carp, fish-flutes, chromis.
Experienced divers can dive at the dive site Canyon (Canyon is a scenic 25-meter depth) - they will meet with the Mediterranean moray eels and octopuses.
And for those who want to explore the many caves,recommend plunge in Chapel village (on the shore there is a chapel - to go into the water, it should be down to a small cave on the stone steps).
Photo