Where to go with children in Ayia Napa?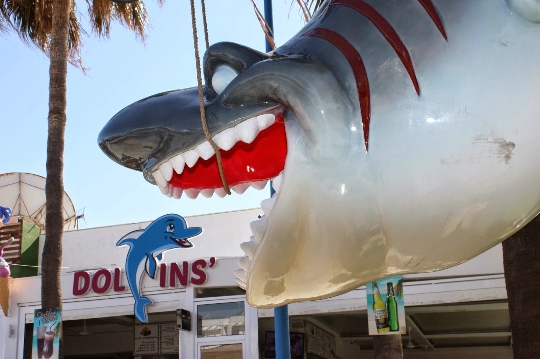 The popular resort of Ayia Napa in Cyprus is considered to be,which is located on the southeast coast of the island. This place has gained fame ideal place for youth recreation. Quiet town in the evening turns into a bright area, dotted with discos and clubs. Despite the recovery, in the resort, you can relax with your family.
The best places to entertain children
Ayia Napa offers the perfect beach holiday andrich excursion program. Around the resort there are plenty of interesting places that are recommended to explore. Rent a bike, a car or hire a taxi, you can see the most beautiful sights.
For children's outdoor activities should visitLuna Park, where there are many attractions for people of all ages. It operates Ferris wheel, which allows you to explore the surrounding area of ​​the resort with a bird's-eye view. Go with the children in the water park, which is the largest on the island, as well as in the Museum of the Sea. Waterpark «Water Land» offers exciting holidays for the whole family. There are more than 18 rides, slides, promenade, cafes and others.
Natural and cultural attractions
Where to go with children in Ayia Napa to seebeautiful nature? The resort is surrounded by picturesque places. Very beautiful scenery can be seen in the Blue Lagoon, surrounded by cliffs. The water there is so clear that at a depth of schools of fish can be seen. Visit this place can be a part of the tour or on your own.
Another attraction of Cyprus - CapeGreco, which can be reached by traveling from Ayia Napa or Protaras. Cape Greco is a unique natural formation, unaffected by civilization. It is a spacious plot, where the National Park of Cape Greco and limestone caves.
Near the central part of the resort arepirate cave. They were formed as a result of natural forces - wind and water. In past years, they kept their treasures of pirates. Found himself inside the caves can be in one of the excursions.
The main object of historical architecture in Ayia Napa is a monastery, embedded in the rock. Each tourist can see the object as it is in the center of the city.
Cognitive Activities can be arranged ifschedule a visit to the Maritime Museum, "Thalassa". His exposition allow to get acquainted with the underwater world of the Mediterranean Sea. The exhibition consists of various marine plants, animals and fish. The most interesting item in the museum is considered to be the wreck, which was recreated by skilled craftsmen.
Photo