Water parks in Limassol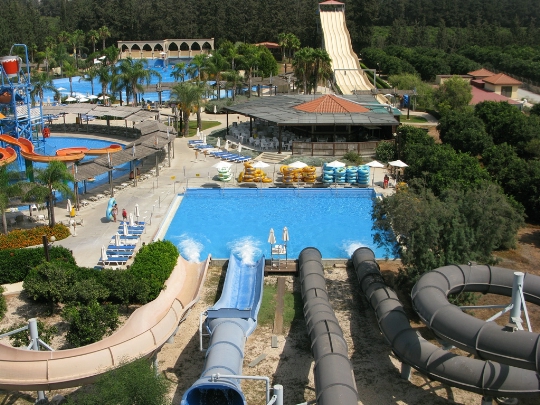 Cyprus Limassol resort offers not only relax on the beaches, but also fun and stay active in the local water parks.
Water Parks "Fasouri Watermania"
Its infrastructure includes:
various slides ( "Triple Tube Slide", "Body Slides", "Black Hole");
"Cross Over Pool" swimming pool (cross it offered for inflatable orange slices);
interactive center for younger guests (at their service - slides, chutes, fountains, bucket, water flows the waterfall which falls every few minutes);
food places (in the bistro "Pirate'sCove"It is available as a comprehensive lunch and a snack in the form of burgers, sandwiches and salads; in the restaurant "Grill and Pasta House" serves barbecue and a variety of types of pasta, and "Ice Cream and Cocktail Bar" - eat ice cream and exotic cocktails);
Nail Express Bar (here women can bring their hands in order thanks to the effort manicure);
Garra Fish Spa (here, in a small basin with fish garrarufa, wishing to offer to do a pedicure).
Important: the provision of life jackets, mats, inflatable wheels for the descent from the hills is free. Parents can rest easy for their children in the water park - here, in case of need, they will be able to provide first aid instructors-rescuers.
Entrance fee: adult ticket - 29 euros, and children (under 12 years) - 16 euros.
Waterpark "Wet'n'Wild"
A water park "Wet'n'Wild" can rapidlydescend from the hills "bullet" or "Daredevil", slowly slide over the "lazy" river, to make rafting on the "Grand Canyon". Entrance fee: adults - 28 euros children -16 euros.
Water Activities in Limassol
Are you interested in beach activities? Look to the beaches of Ladies Mile Beach (children's recreation, surfing, feeding the seagulls) and Curium Beach (paragliding, kitesurfing).
You are not indifferent to the diver? You will be prompted to dive in Akrotiri Fish Reserve (immersion depth - 9 m) - exploring the underwater world, you meet with moray eels, octopus, grouper, inspect the wreckage of a helicopter and an old truck, and, perhaps, and feed the fish. Another interesting place to dive is the cave Big Country (9-meter depth) -In addition of large shoals of fish, octopus and schools of moray eels, here you will wait a cave, large boulders and ledges.
If you are interested in the studysunken ships, you will be prompted to dive under the water to explore the wrecks Three Stars Ship (4-7 meter depth) and Pharses II (diving depth - 21 m), M.V. vessel Habe (9-meter depth), yacht M / Y Diana (you dive to 21 meters deep, and will be able to make beautiful pictures of fish and squid).
Photo