Prices in Paphos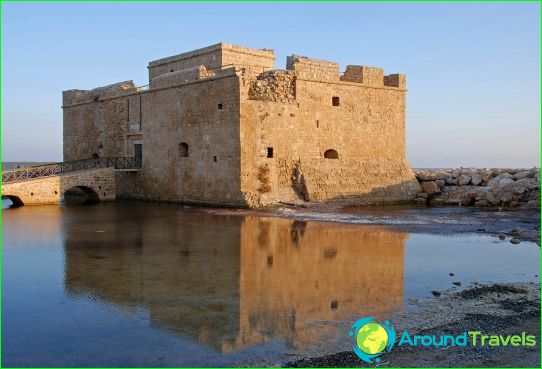 Cyprus is considered an elite resort of Paphos. It is designed for wealthy tourists. Prices are very high in Paphos. If you live in a nice hotel, use a taxi and dine in the restaurant, you have to spend a substantial sum. Going to this resort, bring your pocket money at least 350 euros per person for a week. If you want to visit restaurants and excursions, you will need a lot more money. With a need to take euros. On the territory of Paphos ruble exchange almost impossible.
Accommodation
The popular view of property are apartments andvillas. Stay for two people for a week can be for 500 euros. Large families and groups of friends, mostly rented villa. In the district of Paphos there are many villages where you can rent a house. Apartments near the sea shall be 350 - 400 euros per week. You can rent a house or cottage in Paphos. To save money, book your place in advance. Villa three rooms can be rented for 250 euros per night.
The resort has a few good beaches. Almost all rocky with awkward approach to water. The well-appointed beach is at the hotels. If you are interested in a beach holiday in Paphos, you better rent a room in one of these hotels. To the list of the best include the beach hotel Cyprotel Cypria Maris 4 *. This hotel operates on the "adults only" concept, taking guests from the age of 16. Stay for a week and stay in this hotel costs about 1300 euros per person.
Where to dine tourist
If you buy a tour, the cost of the permitusually it turns on. With self-holiday tourists eat in the local restaurants and cafes. The resort has a prestigious and cheaper restaurants. In the past the low quality of the food. In the middle class the restaurant you can dine for 18-25 Euro per person. In a cheap tavern dinner for two costs 40 euros. Cocktail Bar in Paphos will cost 6-8 euros, a bottle of wine at the supermarket can be purchased for 5 euros.
Excursions in Paphos
The abundance of attractions - this featurePaphos. There are many monuments:. Tombs, catacombs, mosaics, museums, etc. Almost all of them belong to the world the values ​​of UNESCO. Tourists are offered a fascinating excursion programs. To go from Paphos to Limassol with a guide can be for 100 euros. To make your holidays more diverse, visit the water park in Ayia Napa. The entrance ticket costs 35 euros.
Paphos (Cyprus)
Photo