Cyprus Coat of Arms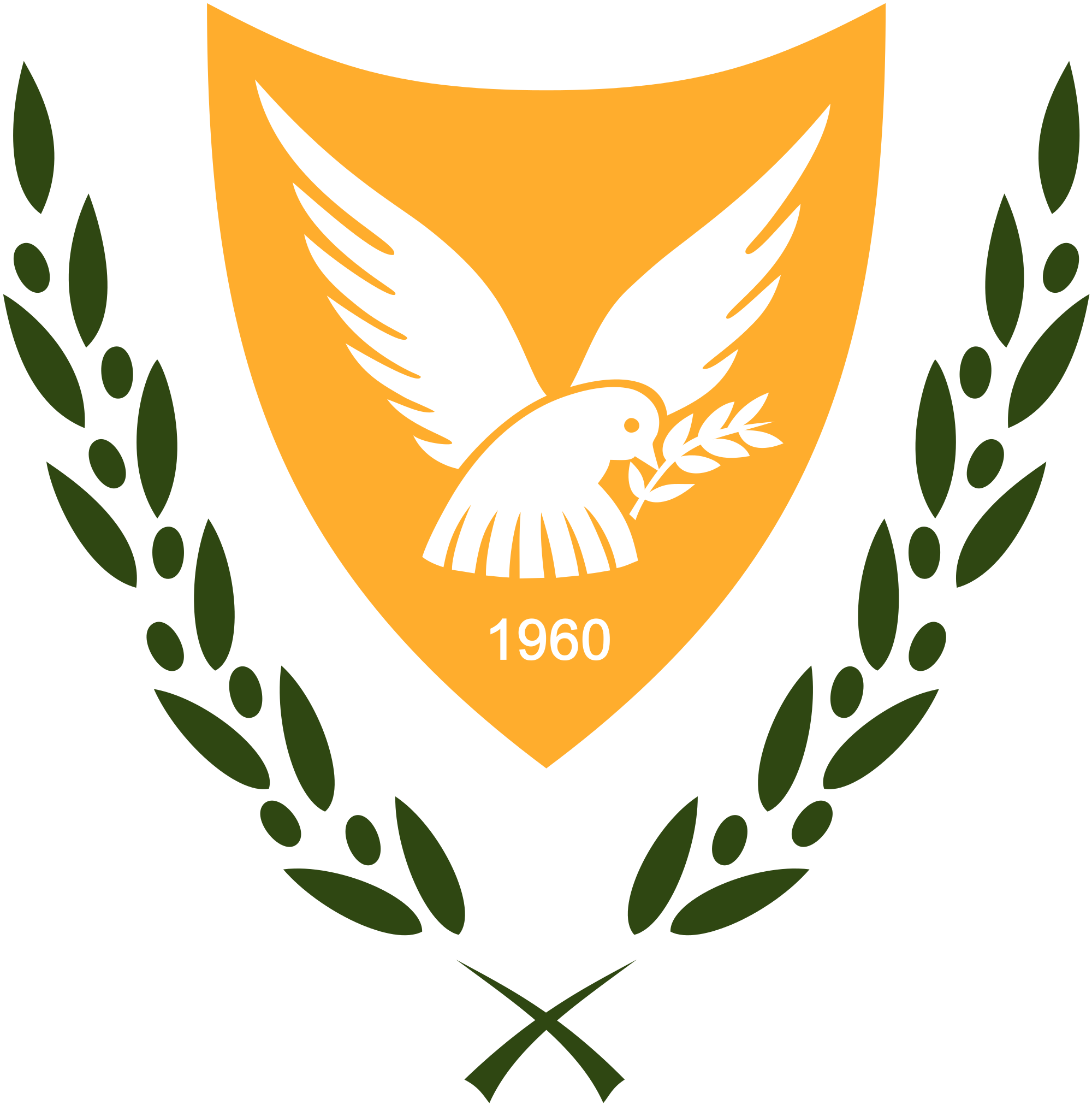 Lovely island, which became the birthplaceAphrodite and resort for thousands of Russians and their neighbors, surprised a complete lack of snobbery power. Not least because that the coat of arms of Cyprus is surprising in its simplicity and profound symbolism. It is fundamentally different from the official symbols of adjacent states lack of royal regalia, robes and chargers.
Symbols in each element
The main symbol of the island state consists of only three elements, remember them, and how they are placed on the arms, it is extremely simple. Authors, creators of the logo was used:
shield in the form of an elongated triangle;
a dove with an olive branch in its beak;
two crossed olive branches, flanking the shield.
Despite the lack of complex characters and symbols,Cyprus coat of arms looks very stylish and concisely. copper-yellow color, which is rarely used in the world heraldry was selected for the background board. This shade is not pure yellow, golden, according to the heraldic tradition. At the same time it is not brown, which is used quite active. This choice is due to huge reserves of copper ore in Cyprus, in the copper-colored yellow.
A dove carrying an olive branch in its beak, isclassic, all well-known, a symbol of peace. The same role is played by the olive branch to the right and left of the shield. In addition, the bottom shield written digits "1960" which indicates the year regardless of the receipt of Cyprus Britain.
A brief history of Cyprus
Blessed land of Cyprus became a centerattraction near and far neighbors, dreaming to capture the island. He especially liked the British. The first invasion of the guests of Albion has happened in 1192, when there appeared an army under the command of the great commander, King Richard the Lionheart.
Then the king gave the ownership of the island Kide Lusignan, no less well-known historical figure who became Signor Cyprus. Thus arose the Kingdom of Cyprus, which has existed for three centuries and had a real royal coat of arms. On the main emblem was depicted by symbols: Cyprus, the Lusignan dynasty of Jerusalem, Cilicia.
With the second coming of the British, this time in1878, the coat of arms of Cyprus has changed their appearance. The centerpiece of the shield took a menacing lion, located at the bottom of the tape with the name of the island, at the top - the British Crown. With independence introduced a new symbol that clearly indicates the peace policy of the young state.
Photo