Holidays in Cyprus in January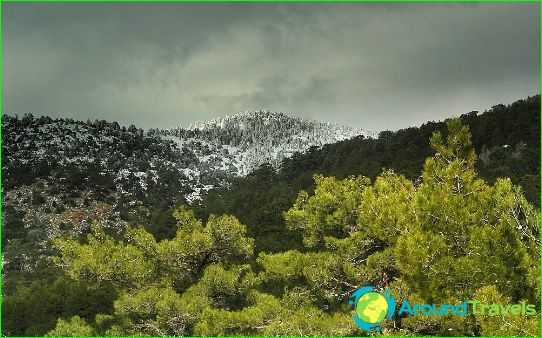 In Cyprus, in January recorded the lowesttemperature mark. Despite this, for the people of Russia is warm even in winter. There were no significant differences in the temperature against the cities of Cyprus no. But you should know the approximate temperature in the areas of the state.
The weather in Cyprus in January
Paphos can be + 17C during the day and night + 8C. On the rainfall accounts for about half of the calendar month, and the sun - about six days. In Ayia Napa temperatures range from + 7C to + 16C, but the amount of rainfall is 93 mm, which is equal to eleven rainy days. It should be noted that Cyprus, the eastern region is drier than the western. In this connection, in the case of all ten Protaras rainy days.
The southern coast of Cyprus, represented by Limassoland Larnaca, warmed up to + 15C in the daytime, + 6-7C - evening and night. However, rainfall is enough: at Larnaca can be nine rainy days, in Limassol - 13. In the capital of Cyprus noted a temperate climate: daytime + 14C, night + 5C.
Beach holidays
If you are not a "walrus" and do not want to plunge into the seaBaptism in the swimsuit will not be useful. The water temperature is only + 16C. In addition, the sea can be very worrying in January. On sunny days you can enjoy a walk along the coast and clean air, which is saturated with iodine and is extremely useful.
Things to do in Cyprus in January - shopping and holidays
Official Christmas sales on non Cyprusheld, but in shopping centers made to lower prices ahead of the holidays. In this regard, before Christmas, locals and tourists can enjoy shopping. It is important to note that if you see a word in the shop window sales, you can be sure that the discounts are common for all goods. The best place for shopping is Nicosia. Take a chance to visit as well as in retail stores and boutiques, as prices can be 70-80%.
In Cyprus, people honored religious tradition, soEpiphany sixth of January celebrate many. On this day to hold church services and to sanctify the water. You can see interesting concerts and take part in an unusual competition for the city streets.
In Ayia Napa held "Cultural Winter" -Culture Festival. This festival is held on Thursdays. The program includes performances of music and dance, you can hear a song and enjoy Latin dance flamenco. In addition, the festival allows you to go on an evening of music and Greek dance evening of classical music. Concerts start at 20.00 in the municipal conference hall of Ayia Napa.
Holidays in Cyprus in January could be really interesting and memorable!
How to relax in Cyprus (Part 1)
Photos holidays in Cyprus