Holidays in Cyprus in October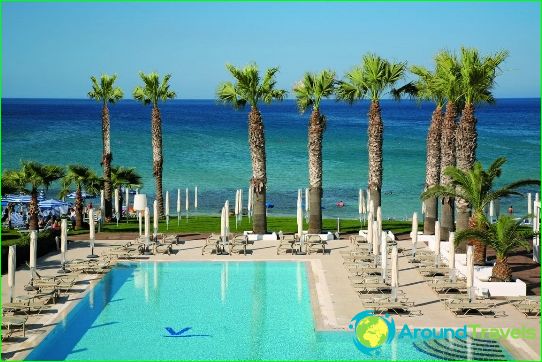 Weather conditions in Cyprus in October can truly please the tourists who want to enjoy the velvet season. Warm and dry weather is comfortable and allows you to spend time wondering.
During the day the air warms up to 25 degrees, and at nightIt cools down to 20 degrees. In October, the rains can be, and sometimes - with thunderstorms. Although it should not be expected to inclement weather, because it is impossible to predict. If the weather is set cloudy, windy, the air can be cooled to 20 degrees. The water in the sea continues to be warm, because its temperature decreases only by November.
Holidays and festivals in Cyprus in October
Tourists can visit various festivals and colorful events that contribute to an interesting pastime.
On the first day we decided to celebrate Independence Day. Particularly lavish celebrations are held in Nicosia. Independence Day program includes military parades, outdoor concerts, and theatrical performances.
In October Arts Festival continues"Cyprus", which began in September. "Cyprus" - this is a unique opportunity to visit the various cultural events, regardless of what major city you have chosen for the rest. Event affects Limassol, Nicosia, Paphos and Larnaca.
In Limassol held "Lemesiya" - an unusual sporting event. The competition continues for ten days and let you take part runners, shooters, boxers, cyclists, dancers.
Prices for a trip to Cyprus in October
Holidays in Cyprus in October can not pleaseOnly pleasant weather, a variety of festivals, but also democratic prices. Tourist flow gradually dries up, however significant discounts do not need hope. At the same time, you can note the financial benefits. Discounts may be 10 - 20%, for tourists still less than in the summer, and representatives of tourism businesses are gradually beginning to cut prices. In October, at good price, you can buy fresh fruit, honey, olive oil.
Journey to Cyprus in October to leave the bestimpression! Take advantage of a unique opportunity to enjoy a relaxing stay at affordable prices, because this chance in the last year, if you want to visit in Cyprus!
How to relax in Cyprus (Part 1)
Photos holidays in Cyprus