The population of Cyprus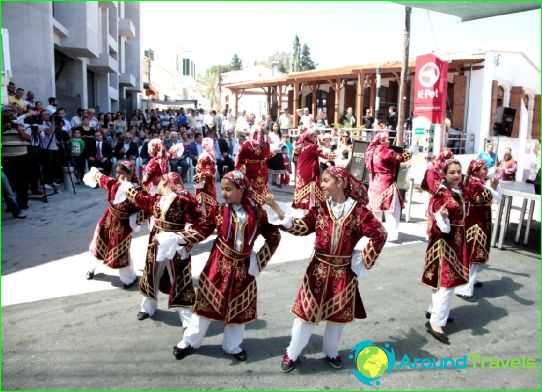 Cyprus has a population of more than 1.1 million people.
National composition:
Greeks;
other ethnic groups (Turks, Armenians, Arabs, British).
Greek Cypriots mainly inhabit the southern part of Cyprus and Turkish Cypriots - north. Furthermore, Cyprus living workers from Bulgaria, Romania, Russia, Vietnam, Sri Lanka.
On the 1 sq km is home to 120 people, but the highest population density is observed in Levkosii, and the lowest - Paphos.
Official language - Greek, but in Cyprus widespread Turkish, English and Russian languages.
Major cities: Nicosia, Limassol, Levkosiya, Larnaca, Paphos, Famagusta, Limassol, Ammochostos.
Cyprus residents are Orthodox, Islam (Sunni), Protestantism, Catholicism.
life expectancy
Male population on average live to 78 years, and women - to 81 years.
The strong performance is largely due to the fact that Cyprus has ideal conditions for the recovery of the body (the sea, the mountains, a large number of sunny days, fresh and healthy foods).
Cyprus is well developed systemhealth (many come here not only for the SPA-procedures, but cosmetic surgery, and for the passage of IVF) - in the local clinics are working professionals who use their work in modern equipment, advanced diagnostic and therapeutic techniques.
But Cyprus is not so rosy - Cypriots are so many people smoke (smoking percentage of residents - the highest in the EU) then smoking all - both women and men, and 12-14-year-old school students.
Traditions and customs of the inhabitants of Cyprus
Cypriots - hardworking and cheerful people who love music and dancing, without which no cost, no walk.
Cypriots are very friendly and always willing to comefor help - to answer the question or to carry out to the right place. Often, the tourist shops are organized tastings, and even they can give a souvenir.
Cypriots like to celebrate the water festival Kataklismos (May-June) - people are competing in marine sports in this day and take part in competitions that are accompanied by pouring water.
Cypriots love to have fun, so in CyprusFestivals are a premium, for example, in July and August, local residents participate in the Festival of Ancient Greek Drama, and in September - the Limassol Wine Festival.
Wedding traditions are interesting because his father,giving his daughter in marriage, should provide her dowry - available to the young family is fully furnished house. At the wedding, as a rule, the guests do not give gifts - just the money in envelopes.
If you arrive in Cyprus, be aware that you are herecould be fined a tidy sum if you pollute the environment, for example, the garbage thrown from the window of the car, you will have to pay 850 euros.
Photo