Prices in Larnaca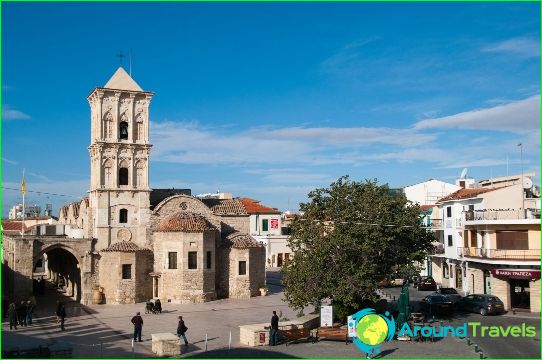 In the south-east of Cyprus is famousresort town of Larnaca. The cost of living in Cyprus is the same as in Western Europe. But prices in Larnaca are lower than in other cities of Cyprus. For payment it will only accept euros. The resort is almost impossible to exchange rubles.
Where to stay tourists
Choosing a place to stay depends on the goalstourist. If you plan to see the sights, you'll like the budget hotel near traffic arteries. For families with children it is better to choose a hotel that focuses on the family. It offers a children's menu and entertainment program for children. Accommodation for a week in a cheap hotel in Larnaca will cost 250 euros. The hotel 3-4 * hotel for a week can be rented for 450 euros. Not less than 800 euros per week will have to spend to stay at a 5 * hotel.
Entertainment in Larnaca
The city attracts foreigners for its magnificentbeaches and high level of service. Of the entertainment here is also popular shopping. The cheapest place to shop is considered an open market on Ermou street. Fashionable clothing, jewelry, tableware, gifts and accessories can be purchased in one of the shops on the street Zenonos Kitieos.
Sightseeing tours in Larnaca veryvaried. To visit the pilgrimage tour "Orthodox heritage of Cyprus," you have to pay 60 euros. Take a trip to Limassol, studying the ancient monuments of culture, it is possible for 45 euros. Journey through the Byzantine churches of Cyprus will cost 55 euros. To save on the excursion programs, it is better to book in Larnaca travel agencies. You can see the sights yourself, if you use public transport.
For entertainment in Larnaca leaves considerablepart of the tourist money. For example, to take a ride on a water bike, you have to spend 30 euros for 15 minutes. For paragliding pay 40 euros for 15 minutes of flight. Water Skiing for 15 minutes costs 20 euros, banana boating - 7 euros.
Meals in Larnaca
Prices for food in the city is different, depending onlevel catering. Many tourists dine in cheap eatery to save money. Dine in an inexpensive tavern for 15 euros per person. Lunch in the restaurant of the middle class is a bit more expensive - about 30 euros. In the supermarket to buy a bottle of wine can be 5 euros. Beer 0.6 l is 3-4 euros a cup of coffee - about 2 euros. In general, food in Larnaca is cheaper than in other cities of Cyprus. Costs for the purchase of products in the stores are almost the same as in the food in the cafe. In Cyprus, the meat is quite expensive. For example, 1 kg of pork have to pay not less than 4 euro per 1 kg of beef - 7 euros.
Photo