Skiing in Cyprus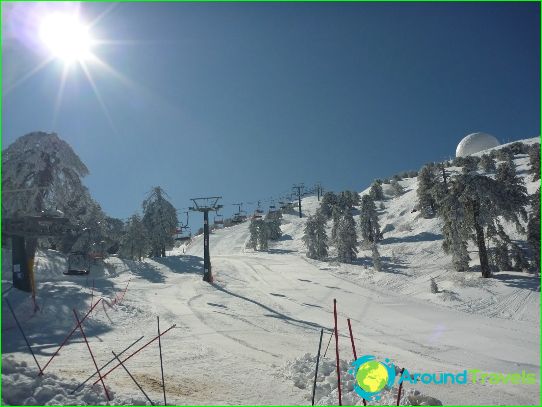 It seems strange, but the Mediterranean islandCyprus apart from the endless beaches, the excellent cuisine and a good diving is pleased to offer its guests skiing. In winter, when the air of the coast can be warmed up to 20 degrees, especially nice to slip with the wind from Mount Olympia and enjoy a wonderful sense of flight.
The equipment and lines
The only ski resort in Cyprussituated on the slopes of Mount Olympia. He called the Troodos, and guests are each year thousands of skiers and snowboarders. The season is short - from the beginning of January to the 20th of March, but it does not diminish the popularity of the ski resort of Cyprus among the fans of winter activities.
The resort has snow cover is always guaranteed -whims of nature hedged snow cannons. Trails here have varying degrees of difficulty: Hera and Zeus - slopes for advanced professionals, and Hermes and Aphrodite are more suitable for beginners and intermediate skiers athletes.
Beginners are welcome at the resort Troodos meet ski school instructors. Classes are held three times a day and price for group training looks quite democratic.
Downhill ski resort in Cyprus differwell-groomed, and a high degree of security. For the delivery of four skiers ski lifts are working to place the descent. Twelve Cypriot trails begin from the top of Olympia, and a fan to disperse his foot.
Prices for ski passes and equipment hire onski resort in Cyprus differ significantly from the European to the best. Becoming a member of the ski club in Cyprus, you can get all the additional 25 percent discount.
Activities and excursions
One of the main attractions of the skiResort Cyprus - veterans of the race, organized at the end of the season. Take part in it, and the famous in the past athletes and amateurs. The event is held in the evening by the light of torches, giving the competition a special romance.
Even sports fans of winter funcan ride a sleigh or go on an excursion to the valley. Very near and Limassol, with its beaches, where even in winter in calm weather you can sunbathe with pleasure.
And the ski resort of Troodos can learn how to dance Sirtaki, try the famous meze, taste the best wines and enjoy the magnificent sunsets.
Photos of the ski resorts in Cyprus