Taxis in Cyprus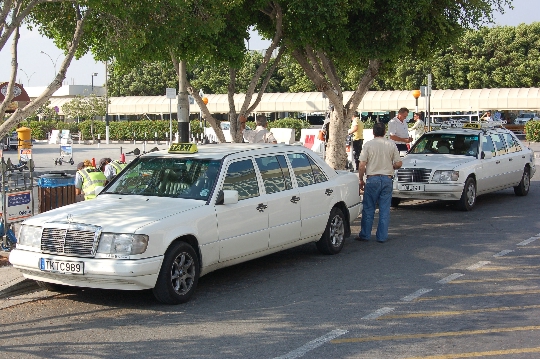 Residents of the beautiful island in the Mediterranean SeaThey know a lot of rest, so no tourist will be left without attention and care. This applies to virtually everything - from the time of the meeting at the airport until the moment of parting the sea. Cyprus Taxis are also subject to a single goal - to meet customer desires quickly and easily get to the right place.
Rate day or night
In Cyprus, as in most European countries, twofare during the day follow each other. The night rate starts at 20.30 (quite early, as noted by tourists) and continues until 6.00 am. At this time, traffic value increases by 15%. To the delight of tourists Baggage this rule does not apply.
Use Cypriot taxi anywherelocation: in the parking lot, ordered by a hotel manager to call from any phone, available in the restaurant or store. And even stop in the street.
Shuttle or taxi
Most of the tourists are the airplane,to get to Cyprus, get them in the airports of Paphos and Larnaca. If you need to get, for example, to Limassol, then there are two options: the bus (the fare 9 EUR) and a taxi, which will bring the city more quickly, but also the amount of the fare will be much higher - in the range of 60-70 EUR. That's how much the company will have to pay out of four passengers per day, if you go about to 6 people, and the cost of travel increases.
Order a taxi in Cyprus, please call +357 99 890 395.
State or privately owned taxi
In Cyprus, too, there is competition between privateentities and state-owned companies that have received licenses for the carriage of passengers and baggage. The first is much more pliant, willing to make concessions, lower travel prices.
A trip to the national taxi costexpensive, but there is a guarantee of security, since the machine be inspected regularly, and drivers only work highly. In addition, they have a solid insurance and tariffs.
Many firms take into account the fact that the islandcomes to rest a lot of Russian-speaking tourists. Therefore, knowledge of the Russian language the driver is crucial for companies. They also take into account that the Russian come to the big companies, so offer a shuttle service for groups of 4 to 10 people. The calculation is made not on the kilometrage considering planting or removal of, and along the route. There are the basic directions, linking the airports, the resorts with the capital and other cities, on the websites of the carriers indicated fares of passengers.
Photos Taxi in Cyprus