Prague Airport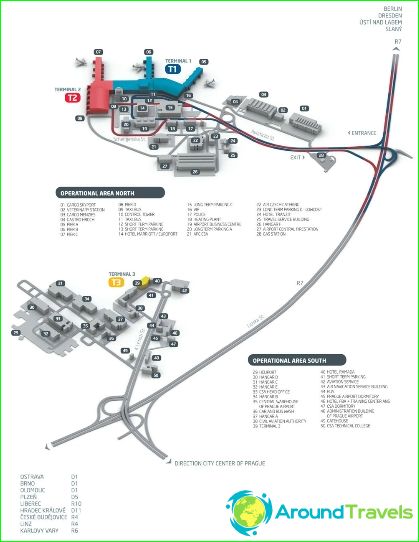 If you're flying to the Czech Republic, then you definitely need to know about the airport in Prague. It is named in honor of Vaclav Havel. In Eastern Europe, it is considered the best.
We should not forget that Prague istourist and cultural center, and every year the city plays host to millions of tourists. Accordingly, the arrival of this wonderful city has to start with a luxury airport - such a goal was the builders, and they managed to create one of the best airports in Europe.
The airport consists of four terminals. The first serves flights to countries which are not included in the Schengen zone. The second terminal is engaged in servicing flights to the countries included in the Schengen area. The third terminal is busy servicing private and charter flights. The fourth terminal is not engaged in passenger flights, with the exception of VIP transportation, as well as maintenance of the official delegations. Incidentally, the first terminal was opened back in the thirties of the twentieth century.
To get to the airport from the city you canin several ways. In particular, you can use the bus (just three city routes go to the airport). Even more rapid way the entrance to the airport is a taxi, although it is worth, I must admit, it is not cheap.
Near the airport is enough parking places andso you can always leave your car. Parking is located on several floors and equipped with signs and pointers to help in orientation. It also operates the elevator for passengers, is delivered to the destination. Before entering must buy a special ticket, pay at the exit to the parking lot to the sector. Inside the boxes are located, which is inserted in the ticket price and is denoted by (it is determined by the time of stay). Hour parking can be bought for fifty crowns. After payment of the coupon you need for twenty minutes to leave the parking sector and the return ticket on departure.
It should be noted large areas ofAirport. This is quite convenient to denote all directions, so that airport visitors do not get lost. Also at the airport are restaurants and shops.
Vaclav Havel Airport is considered to be the most organized, it is constantly evolving and upgraded. Customers tend to get only positive impressions of his visit.

Photos of Prague Airport