Attractions in Prague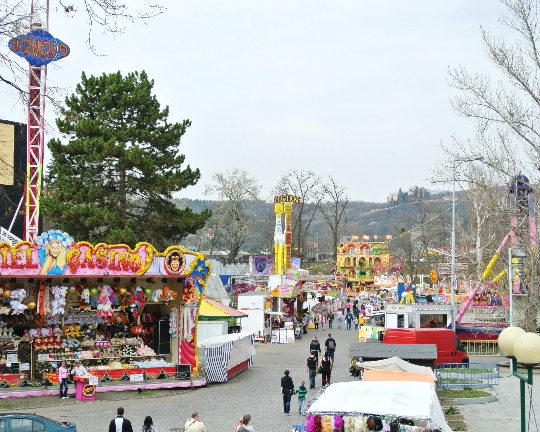 Today the Czech Republic is one of the mostpopular holiday destinations in Europe. In the first place it is of interest for its traditions, culture and curious customs. However, lovers of modern active holiday will not be disappointed, especially if we are talking about the Czech capital - Prague.
Attractions Prague every year attracts hundredsthousands of holidaymakers from all over Europe, and no such thing as "off-season" in this city does not exist. Average winter temperatures range from -2 to -4 degrees, and in summer it rarely exceeds 25-30 degrees Celsius. So no matter where the journey is planned - it is in any case will bring only positive emotions.
The most popular places for entertainment in Prague
Perhaps the most famous and popular destination forentertainment in Prague is a famous amusement park. Unlike other similar places that are compact playgrounds, the amusement park - a full-fledged entertainment center, more like a miniature town. Currently available are:
racing card;
shooting;
Ferris wheel;
mazes;
roller coaster;
bowling;
bowling alley;
carousel;
fear of the cave.
But this is only a small part of the list of interest fortourist attractions. On the territory of the amusement park is also located one of the largest fairs in the country, where you can buy the most bizarre and unusual souvenirs and try a variety of delicacies.
Every day held colorfultheatrical performances, dances and contests, so that tourists can not only enjoy the spectacle and make beautiful photos, but also personally take part in the action.
Powered Prague amusement park every day from 14 to 22hours on weekdays and from 10 to 22 over the weekend. Cost attractions also relatively low. Children's tickets cost about 1.2 euros (CZK 30) and 2 adults (50 kroons). Therefore, even with a modest budget you can relax to fame.
Tankodrom Milovice
Another popular holiday destination in Prague,designed for a more adult audience. Everyone here can ride a real tank, APC or any other military bronemobil and plenty of drive in the surrounding fields. Prices, however, as adults. For example, one hour away by Hummer H1 will cost almost $ 300, and a similar duration on T55 tank trip will cost at least $ 1,300 / hour.
Photo