Beaches in Prague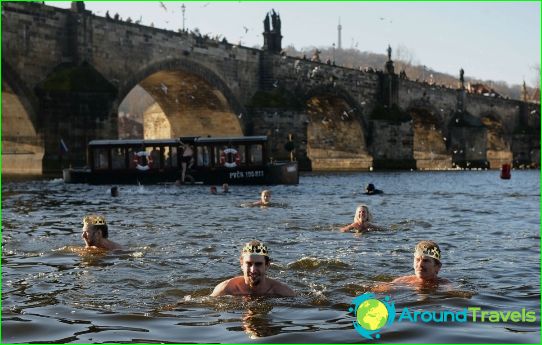 The majestic and beautiful Czech Republic every yearwelcomes its on their land, thousands of tourists from around the world. And, of course, the most popular are the world famous beauty of its capital, Prague. If you happen to get here in the hottest season, will perforce have to look at the beaches of Prague. On the territory of the city there are several beaches, it is suitable for swimming and recreation.
More detail will talk about the next five urban beaches:
Beach Zhlitye Lazne;
Beach Prazhachka;
Beach Podoli;
Beach Divoka Sarka;
Beach Hostivař.
Zhlitye Lazne
It has everything you need on the beach for Zhlitye Laznea full family vacation. A great number of water activities, games on land. There will be a place climbers and lovers ride on a catamaran. Children can safely let go in their own dedicated pool. You can satisfy your hunger in a local restaurant or in the beer garden. The evening entertainment program includes performances by local and visiting DJs, and after sunset, you can enjoy the local beauty evening city lying in a hammock.
Beach Prazhachka
Located beach in the upper reaches of the Vltava River. By the way, all fears for his health can breathe a sigh of relief. The river meets all hygienic and sanitary requirements. Prazhachka Beach is the epitome of the dream of any traveler. It has everything: a gentle golden sand, deck chairs, bars, places to play and rest. The beach line is stretched 200 meters along the coast. There is quite quiet and not crowded, so a quiet family holiday can be carried out here. The choice of visitors and bathers given pool if suddenly someone does not dare to plunge into local waters.
Podoli
Special love the locals have for the beachPodoli. summer, most of the time they spend here. On the beach there are two large outdoor swimming pools with springboards, there is also an indoor pool. Those who wish to soak up the sun will not have long to find a comfortable place, everything you need at your fingertips. For a fee
You can visit the solarium. Entrance to the beach for an extra charge, for both adults and children.
Beach Divoka Sarka
A great place to civilized rest. This beach will appeal to all who want to retire and spend time relaxing in peace and quiet. Located beach on the outskirts of Prague. Among the locals, he was called "Wild", although apparently it is not. Its territory is very well organized, there are tennis courts, a playground and a local cafe with a cozy atmosphere, serving delicious Czech cuisine.
Beach Hostivař
On the shore of Lake Hostivar locatedlovely area families. Under the warm rays of the sun gentle Prague is located just two sandy beaches. Both are equipped with sun loungers, a special place to play tennis, windsurfing available services, boat trips on the lake. Well, do not do such a beautiful beach without the cafe, where you can sample local cuisine.
They were the best sandy beaches of Prague. It's worth noting that almost all of them are paid.
Photos of Prague beaches