Prague - the capital of the Czech Republic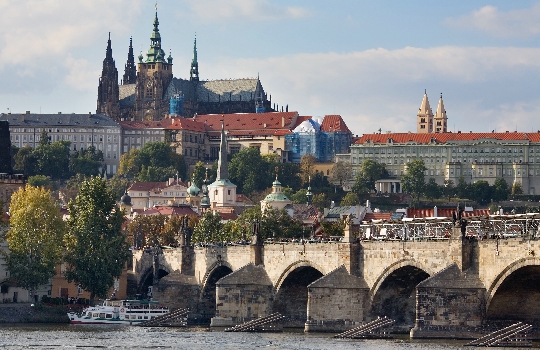 Prague - one of the main tourist spots in themap for any European traveler. The capital of the Czech Republic is interesting, first of all, in terms of architecture, there remained a lot of beautiful buildings. Secondly, attracted numerous historical monuments and tourist attractions, with world-wide significance. Thirdly, the famous Czech beer and rich food also play a big role in increasing the flow of tourists.
Historical Center
Any tourist map of Prague showshow many amazing places in this ancient city worth visiting. But all roads every guest of the Czech capital start from the historic center and its attractions.
List of Czech culture and historical monuments is practically endless, the top five are:
The Charles Bridge;
Old Town Square;
Prague Castle;
St. Vitus Cathedral;
Wenceslas Square.
Tourists at first even lost so muchI want to capture in a photo in the Czech capital. The second point of confusion is waiting for them on the Golden Lane, which is located in the Prague Castle (guests do not even frighten the point that the entrance fee). Here are located the most famous shops and souvenir stalls, Sales creations of local artists from the glass and leather, wood and clay. On this street you can visit the old prison, learn the ancient bow, take a closer look with the activities of Czech medieval alchemists.
City museums
Tourists who prefer to get acquainted withcapital through museums and their collections, should definitely make the list, otherwise the journey could take months. In Prague, a great number of cultural institutions in various fields, museums, galleries and exhibition halls. The richest and interesting collections are presented in the following locations:
National Museum;
Czech Museum of Music (separately have Mozart Museum);
People's Technical Museum.
No less interesting for visitors Toy Museum(For young audiences), the Museum of Torture (for older travelers). It is also the capital of the Czech Republic is proud of its theaters - besides the National, has puppet theater or theater of "black light".
Monuments Prague architecture
They are found almost everywhere inthe historic center, one of which is the Charles Bridge. Walk on it may take more than one hour, if you will fall knowledgeable in love with a city guide. For each of the monuments located on the bridge are amazing legends and ancient stories.
Czech names of some of theseattractions can bring a smile to the foreign tourists, for example, Krizik fountain and Treasury Loreta that does not detract from their historical and cultural importance. On the contrary, they have become the first in the list of places to visit.
Recreation and tourism - Prague
Photo