Christmas in Prague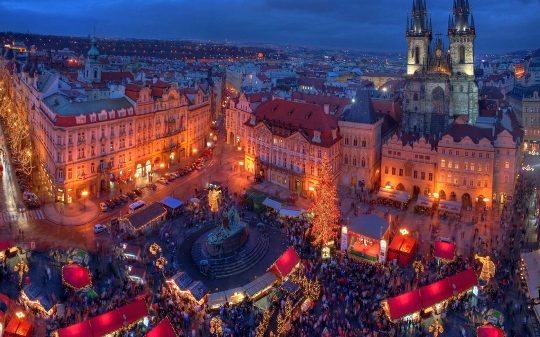 Christmas in Prague - it is a special and long-awaited holiday, which is accompanied by training in setting up New Year's fir trees, street decoration illumination, the opening noisy fairs.
Features of the celebration of Christmas in Prague
One month before the start of the holiday Czechs fast andDecember 24 sent a morning Mass and consecrate sweets for Christmas tree ornaments. Before the feast of the locals go to the bank of the Vltava, to buy from sellers carp live fish for the sole purpose - to release the fish into the river to the delight of children.
Czechs celebrate Christmas with loved ones, andIt is preparing for the holiday table carp (every housewife uses its own original recipe). In addition, the holiday is complete without a Christmas bread and apple strudel (dessert). According to a local take after eating carp, a couple of fish scales need to hide in a purse to secure the financial health of the whole year.
After dinner, the Czechs prefer to arrange divinationon apples: cutting the fruit, they make conclusions on the pattern of the core. So, finding the cross, it is possible to judge the emerging failures, and see the whole star, you can count on the fact that the year will be happy and rich.
To enjoy classic Christmas dishes, it is advisable to go to a local restaurant. There you popotchuyut:
carp soup with croutons;
snack in the form of "sausages wine" prepared from several kinds of meat and white wine;
fried carp (usually it is served with potato salad);
vanilla croissants ( "vanilkoverohlicky").
Holiday events in Prague
The December Prague will delight guests with festiveactivities: looking in the church of St. Nicholas, St. George's Basilica and the Philharmonic offers holidays and Christmas concerts. And if you choose to look at cribs, go to the Church of Our Lady of the Snow (21 December - 3 January).
Christmas markets and bazaars in Prague
Christmas fairs and markets open toPrague's main squares (Republic Square, Wenceslas, the Old Town, Peace Square) from 30 November (they are open from 10:00 to 22:00) - here you can acquire handicrafts made of glass, straw and wood, knitted things, garnished with pomegranate, ceramics, wax candles and Christmas decorations. In addition, here you will have to wait for the fun to the music and songs, as well as treats (directly at the fair who wish to treat themselves offer mulled wine, roasted chestnuts, sausages, Czech buns "trdlo" Sprinkle nuts, cinnamon and sugar).
Want to know more about Czech Christmas traditions? Join a walking tour participants "How to celebrate Christmas in Prague?" (Organized by the Prague Information Centre).
Photo