History of Prague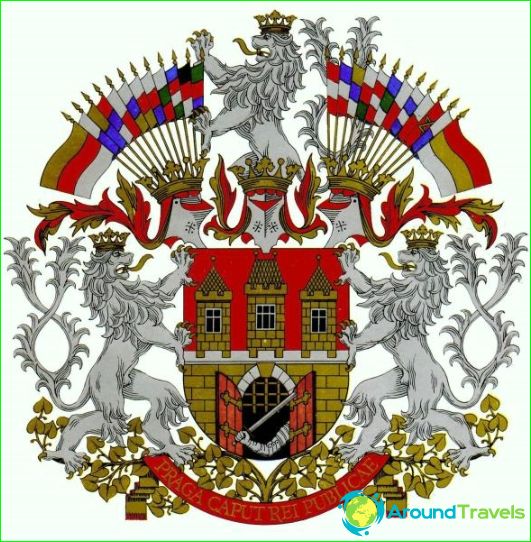 Prague Coat of Arms
Prague - the capital and largest city of the Czech Republic, inwhich is home to 1.3 million people (data for 2013). Prague is located in the northwestern part of the country on the banks of the Vltava River. Prague's Old Town is listed as a UNESCO World Heritage Site.
During its 1300-year history of Prague has becomepolitical, cultural and economic center of Central Europe. The city was not only the capital of the Czech state, but also the residence of the two emperors of the Roman Empire, it has played an important role in the Protestant Reformation, the Thirty Years War, during both world wars.
The territory on which the modernPrague by the end of the 1st century BC It was inhabited by Germanic tribes. At the end of the 5th century BC, during the great migration of peoples after the collapse of the Western Roman Empire, Germanic tribes moved to the West, and in the 6th century came here Slavs.
According to legend, Prague was founded in the 8th centuryCzech Princess Libuse. In the 10th century the city became the capital of the Czech state, the market square was built here. At the beginning of the thirteenth century, Prague was surrounded by walls for protection against enemy attacks.
In the fourteenth century, during the reignHoly Roman Emperor and King of Bohemia Charles IV in Prague flourished. He turned the city into an imperial capital, making it the third largest city in Europe (after Rome and Constantinople). The emperor ordered the construction of the New Town (Nove Mesto), adjacent to the Old Town, independently came up with the architectural plan. In July 1357, Charles IV himself laid the first foundation stone of the Charles Bridge.
Over the next two centuries, Praguedeveloped as a merchant town, full of Gothic buildings were constructed during this period. Economic growth continued until the 18th century, in 1771 in Prague, lived 80 000 inhabitants. Many of these were rich merchants and nobles who enriched the city with Baroque palaces, churches, gardens and theaters.
The First World War ended in defeatAustro-Hungarian Empire and the emergence of Czechoslovakia. Prague was chosen as its capital. World War II caused heavy damage to Prague, however, the operation for the liberation of the capital 9 May 1945 the Soviet troops took place without serious damage. In 1960, Prague became the capital of the Czechoslovak Socialist Republic, and it remained until 1993. In 1993, after the split of Czechoslovakia, Prague became the capital of the new Czech Republic and an important cultural center of Europe.
Today in Prague, you can see a large number ofworld-famous cultural attractions: Prague Castle, Charles Bridge, Old Town Square, the Jewish Quarter. Since 1992, the extensive historic center of Prague has been included in the UNESCO list of World Heritage by UNESCO. The city boasts the largest museums, as well as numerous theaters, galleries. The rich history makes it a popular tourist destination, Prague annually visited by more than 4 million. Tourists.
Prague Photos
Prague Coat of Arms

Prague in 1493. Vintage engraving.

Charles Bridge in 1840

View of the Charles Bridge and Prague Castle

Cathedral of Saint. Vitus

The Charles Bridge

Old Town Square Town Hall and Tyn Church