New Year in Prague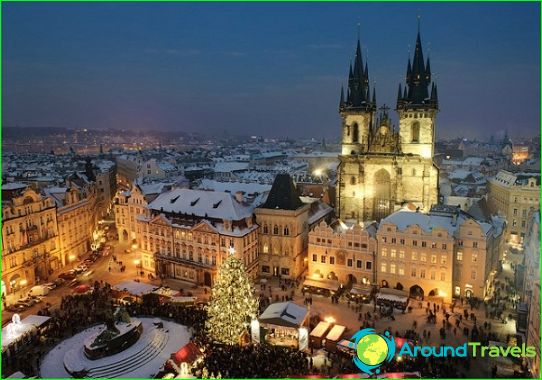 Surprisingly, combining medievalmystery and novelty of our time, Prague is not in vain considered to be one of the most beautiful cities of the Old World and attracts millions of tourists every year. Her fairy-tale and romance - a great reason to celebrate favorite childhood New Year's Eve in Prague, in an atmosphere of mystery and a bit unreal.
Mistletoe and mulled wine
The most important features of the New Year andChristmas in the Czech capital - flowing in the air spicy aroma of mulled wine and a branch of mistletoe, which became a symbol of the holiday. The old square and bridges, girded Vltava river, medieval castles and modern shops, cozy cafes and many-sided trade fairs, all these days is lit, lights, sparkles and shimmers myriad of bright lights.
The most delicious Prague goodies - sweetshandmade, which offer cafés and restaurants of the old town. For serious Christmas gatherings fit traditional menu, including a hundred varieties of beer, goulash with dumplings or baked until golden brown delicious pork knee, which Czechs consider Christmas dish.
Desires are there to be executed
The main sign of the New Year holiday - is notOnly gifts and feasts, but millions to make a wish. In this sense, the New Year in Prague - reliable way to perform them. To dream you need to go to the famous Charles Bridge. It established three dozen sculptures, three of which are the old-timers say, fulfill any desire.
To distinguish from the usual fairy figurines afford everyone - they rubbed until golden luster of previous generations of dreamers. The ritual will have to observe exactly how the people themselves tell of the city.
Antique clock still go
The main festivities on New Year's Eve in PragueIt takes place on the Old Town Square. She - the heart of the city, and it is here that dresses up the main Czech tree and festive fair noise. By the way, the Orloj clock on the tower of the Town Hall - Glockenspiel is astronomical, the main feature of which is the change of the figures in the opening windows every hour.
The area is decorated with an ancient church of St.Jacob, planted in the XIII century, and the Virgin Mary temple, whose construction came in the XIV century. Both architectural monuments have luxurious interiors, and paintings and frescoes are among the most significant and important in Europe.
Photos of the celebration of the New Year in Prague