Prague 5 days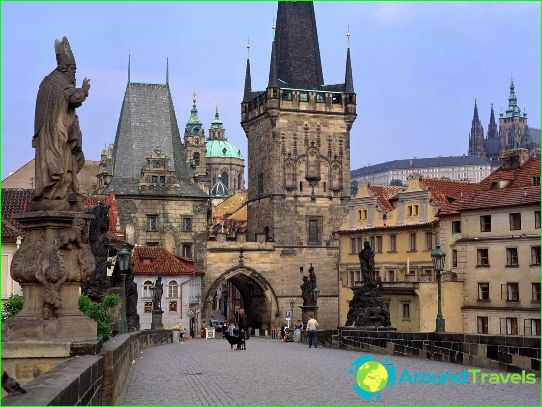 The Czech capital - one of the most beautifulEuropean cities, excursions and on it - a very interesting and exciting. If your plan - Prague for 5 days, try not to miss to visit the famous attractions and major museums.
Old town and its surroundings
By exploring all means recommended in the historic center of the Czech capital:
Prague Castle, founded in the IX century,which is a complex of buildings, temples and buildings. Its main decoration - St. Vitus Cathedral, and the fortress itself is not only a monument of architecture, but also serves as the seat of the Czech president.
two historic district of Prague connecting Charlesgirded bridge Vltava as early as 1380. Since then, it is decorated with three dozen sculptures, each of which is an independent masterpiece. The bridge is always crowded, so it is best to devote the early morning excursions.
Old Town Hall, built in the XIV centuryGothic style. Today it is a museum, but in a special ceremony held solemn hall marriage registration. At the beginning of the XV century on the Town Hall tower famous chimes were installed.
Church of Our Lady before Tyn - the current churchthe Old Town Square. Built in the XIV-XV centuries, it strikes the perfect proportions and Gothic interior decoration in the Baroque style. Including a visit to a church in Prague's inspection plan for 5 days, you can learn many interesting legends associated with its construction.
As the "boiled" gold?
The old town is another interestingPrague tourist attraction. This is a whole street of small houses, where once lived the alchemists. They were looking for the philosopher's stone and tried to get the gold out of the most familiar materials.
Then the dwarf houses, built in the thicknessramparts, steel homes chasers of real gold. Later Quarter populated and poor in the houses Golden Lane settled artisans. Nowadays there are numerous souvenir shops, and the street itself has become a well-known Prague museum.
Old Bohemian tavern
One evening in Prague for 5 days should be spentleisurely tasting of local dishes and the famous Czech beer. Signature drink is brewed in almost every restaurant and cafe, and therefore all of its varieties of taste is simply unrealistic. But we need to strive for excellence, and therefore reserve a table in an authentic pub should fail. To beer in these restaurants serve a variety of branded snacks - pretzels, sausages and other meat delicacies. When choosing a restaurant, a little bit better to turn off the usual tourist trail to the price tag has become more pleasant, and the food - this traditional Czech.
Recreation and tourism - Prague
Photo