Prague 1 day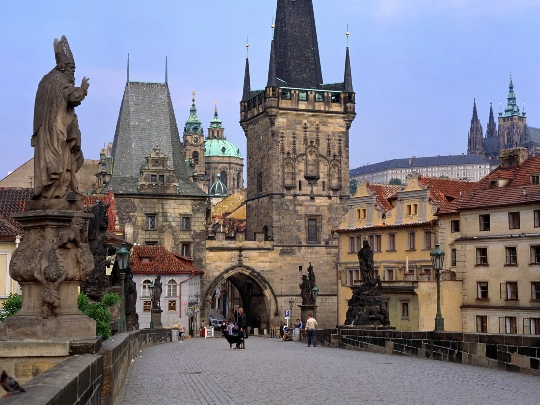 The capital of the Czech Republic is in no hurry to fight in the firstplace ranking in the number of residents or footprint in the European Union. But according to the number of annual measures it offers Prague 1 day can beat anyone's week, or even a semi-annual record. Its centuries-old Istoiya and a large number of architectural masterpieces attract millions of tourists annually. To tell the truth, the Czech capital as the architectural ideal that highlight individual attractions harder here than anywhere else. Prague is famous for good and whole districts and streets.
Bridges over the Vltava
Prague crosses the Vltava river, hobbledeighteen bridges, each of which is a masterpiece. Business card of the city, the famous Charles Bridge, which is worth visiting in Prague for 1 day, was built in the XIV century. King Charles IV personally involved in its construction, and the Dalai Lama in the late twentieth century, noted that only positive energy is concentrated around the stone crossing. Czechs believe that the Charles Bridge - is not just a symbol of the capital, but also the center of the universe.
No less famous Chekhov bridge, although beingone of the shortest, but it keeps a lot of historical relics. On each side of his stone piers are located ancient bronze statues, lanterns and openwork ligature railings give the evening the bridge mysterious outlines, and a day on it cheerfully running trams. By the way, a ride in a trailer, you can see all the old Prague in one day and select objects for further exploring the city.
The largest castle in the world
Such is the title of a modern residenceCzech President, Prague Castle. Fortress was founded in the ninth century and today is a complex of buildings and temples, the most famous of which is the St. Vitus Cathedral. His deservedly considered the pearl of European Gothic architecture.
Cathedral began to build in the XIV century all at the sameCharles IV. Its construction lasted almost 600 years, the height of the Great Tower of the Cathedral of more than 96 meters, and the main nave stretches for 124 meters. One of the main attractions of the temple - its stained-glass windows in the northern part, made by Alphonse Mucha. Fans of the famous artist can be included in the plan of the tour "Prague 1 day" and visit his memorial museum, located in the south wing of the palace Kaunitskogo.
Recreation and tourism - Prague
Photo