Streets of Prague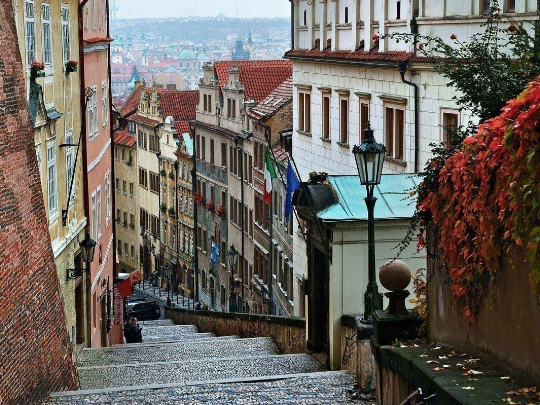 Prague is famous for its beautiful architecture. The city has a large number of interesting objects, interesting architectural designs of ancient buildings. The Old Town is the most attractive streets of Prague.
The oldest streets of the city
The first and most ancient street isCharles, which begins near the Charles Bridge and reaches Little Square. This street attracts tourists. For them, shopping stalls with souvenirs are working. Here begin sightseeing tours. The old site is also located Celetna Street, one of the oldest in Prague. Where you can admire the palaces of the aristocracy.
By Charles Bridge Street adjacent Hroznova wherebeautiful panorama with the very bridge. Among the most popular places include Golden Lane, the streets of Paris and Neruda. House, built in the castle can be seen on Zlatá Street, which is different miniature size and bright buildings. By Prague Castle suitable picturesque street Nerudova. Prague Castle is a place of concentration of tourists. It is surrounded by towers and battlements. Here is the residence of the Czech president.
Luxury shops and boutiques are waiting for buyers atParis street. It resembles the French Champs Elysees and goes from Old Town Square. In this area, all the buildings have a modern look. Wenceslas Square - the only place, where even at night you can see the crowds of people. Wenceslas Square was formerly a horse's market. Today it looks like a wide boulevard that starts near the equestrian monument of St. Wenceslas.
One of the most interesting is the Jewish quarters. It is located in the old town and is surrounded by ancient houses. Currently attention in the Jewish quarter of the old synagogue attracts with rich decoration.
famous promenade
Among the streets of Prague embankments stand. They are distinguished by a special beauty. For example, always a pleasure to walk along the waterfront Dvorak. It was established in 1904 and received its name in honor of the composer Antonin Dvorak. From this embankment, as with the other you can see Prague Castle and Lesser Town. The three quays frame the old part of the city by the Vltava. Dvorak's beautiful waterfront coming to the Prague street. The most noticeable decoration of this street is the smallest bridge in Prague - Chekhov bridge. Its length is 170 meters, width - 16 m.
Photos street in Prague