What to do in Prague?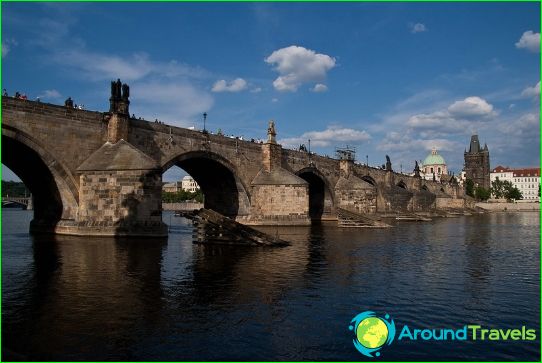 Prague - a beautiful city with a changeable climate, beautiful architectural monuments and excellent opportunities for recreation.
What to do in Prague?
Walk along the Charles Bridge;
Visit Old Town;
Try the famous Czech beer, including the original, such as a banana or cherry;
Climb one of the magnificent towers - Petrin, the Powder, the Old Town;
Those who want to go back to Prague again, should definitely find a meridian on the Old Town Square and step over him;
Visit the embankment of the Vltava River, rent a catamaran and go to the river walk (during the journey you will see the National Theatre and Dancing House).
Things to do in Prague?
Get introduced to Prague, you can at the freecity ​​tours (anyone can join a tour group at the Old Town Square at 11:00 and 14:00) - holds her English speaking guide, who knows the great history of the city. Despite the fact that the tour is free, the guide should leave a tip. If you - the photographer or just a curious tourist, you can climb to the observation platform and panoramic to make the best pictures.
You love to experience the thrill? Go to SkyDive Arena: here you will be placed in a wind tunnel, and you can make a jump, simulating a parachute jump. If an agreement with the employees of the center, they will remove you on video.
Be sure to go to the 5D Kino Praga - atwatching a movie, you should be ready to shock and lifts (you'll be in the chair chase heroes of the film, or to move away from the persecution of bandits). The duration of such films is 4-11 minutes, and cinema for up to 8 people.
Lovers of unusual entertainment can goon a tour of Prague collectors! With the help of experienced guides you will be able to pass through a huge tunnel, supplied the whole town with the necessary resources, under the Old Town Hall, Tyn church and other landmarks.
Lovers of cultural holidays canto go to the concert halls, galleries and music clubs. often festivals in Prague. So, you can visit the International Festival of Organ Music, spring and autumn festivals, the International Film Festival Karlovy Vary and FEBIOFEST.
Be sure to go to the Prague Zoo in Troy Park, where you can see giant iguana, a red panda, cheetah, Chinese alligator, blunt rhinoceros, orangutan.
Inexpensive to buy clothes and shoes, glass and porcelain, jewelry can be in Czech shops and large shopping centers.
In the evening you can go to the Krizik fountains - you will be delighted by the colorful spectacle (fountains are light and music installations).
Recreation and tourism - Prague
Photos where to go in Prague