Where to eat in Prague?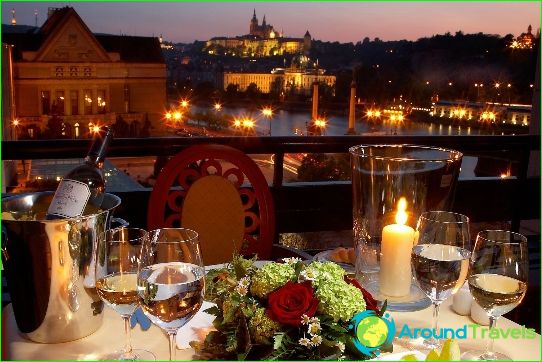 On vacation, for sure, the question will arise in front of you: "Where to eat in Prague?" The Czech capital offers - hostinec, hospoda, pivnice, pizzerias, restaurants, cafes, pastry shops, tea, sushi bars, restaurants from fast food, Fresh bars ...
The national institutions you can taste Czech dishes, which are based on fish, poultry, pork, beef, potatoes, dumplings, sauerkraut, sauces and gravies.
Where to eat cheaply in Prague?
Budget can dine in restaurants withsignboard with the inscription: "denni nabidka" (for business lunches, consisting of a main course, salad, dessert and a drink, you pay no more than 6 euros). Tip: before you order a meal in the local restaurants, you should pay attention to its volume (for example, "veprevo knee", weighing 1.5 kg, can be booked for 4 people).
Your goal - to save money and spend on food is notmore than 7-8 euros per day? Look for low-cost Prague dining. For example, in the "Peklo" (Passage "Svetozor") first courses are 0.9, and the second - 1.6 euros. Delicious pastries can eat in the cafe network "Paneria": a piece of strawberry cake will cost you 1.5 euro.
Where to eat in Prague tasty?
U Dvou Kocek: in this restaurant for 9 euros you can order a "veprevo knee" or traditional cold cuts of roast duck, smoked pork, veal and vegetables. If you order a "Ceska Basta", then this dish will satisfy the hunger of the consumer 3.
U Bansethu: This restaurant serves Czech goulash for 3.5 euros, as well as dumplings with onion, bacon and homemade smoked bacon for 2.9 euros.
Ferdinanda: this place will give you a wide selection of dishes at reasonable prices. So, pork cutlet with cheese will cost you 5.5 euro, salad - 3 EUR / 300 g Beef goulash with vegetables - 4.6 euros. In addition, beer is brewed here "7 bullets," "Ferdinand", "Pomegranate" (1-1.3 euro / 0.5 L).
Kozlovna: in this place you can order as simple snacks, and great dishes, such as roasted duck or pig. In addition, here you can find a variety of traditional dishes (ribs, beer soup) for reasonable prices.
Gastronomic tours of Prague
Going on a gastronomic tour of thePrague, you are led by an experienced guide will walk to local restaurants, pubs and restaurants, taste Czech specialties, taste the famous beer, as well as learn about the legends and myths of old Prague.
Admire the evening Prague, taste the Czech cuisine and drinks, going 3-hour gastronomic cruise "Sweet Prague" on board the pleasure ship "Luznice".
If your goal - to taste different varietiesCzech beer with traditional snacks, you should walk through the Old Town pubs (to become a party of the beer of the tour can be on Saturdays and Tuesdays).
In Prague there are many restaurants, where prices are lower than in many European capitals.
Photo