Prague Zoo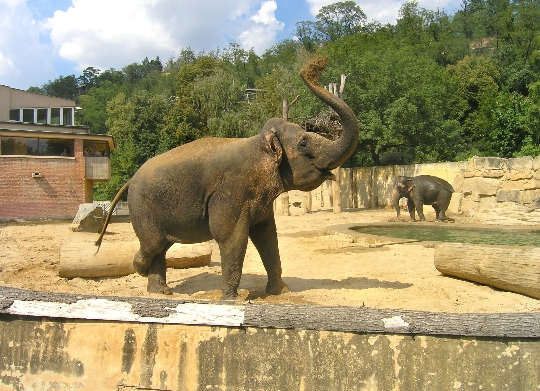 The idea of ​​the opening of the Prague Zoo was firstpublished in the newspapers in 1881. In honor of the marriage of Crown Prince Rudolf of Austria and Princess Stephanie of Belgium, it was decided to establish a zoological garden in the Czech Republic. It opened only half a century later in 1931 and since then has repeatedly entered the top ten of the best zoos in the world.
ZOO Praha
Favorite vacation spot of Prague's children and their parents is in the municipal district of Troy. Address Zoo - U Trojského zámku 3/120.
Its area is about 58 hectares and has more than 4,200 guests, with a fifth of the 650 represented animal species listed in the list of rare and endangered.
One of the main achievements of the park workers - a significant contribution to the preservation of the unique Przewalski horse. For many years there were diluted steppe horses and helped them do not disappear forever.
Today, the name of the Prague Zoo has much totell fellow biologists. For example, here are bred lizards from the island of Komodo and conduct interesting research aimed at the preservation of rare Chinese giant salamanders. In the capital of the Czech Republic was born first in Western Europe, the gorilla, and in 2013 was born baby elephant.
How to get there?
To get to the zoo, to all comersPrague need red line metro station and Nadrazi Holesovice. The yield on the escalator will lead to the bus station, from which depart daily surcharge and free bus 112 - "ZOO Praha", plying on holidays and weekends.
Helpful information
Opening hours of the zoo in Prague is very convenient forAttendance - the object is open from 09.00 to 18.00 without days off and holidays. Tickets can be purchased at the box office at the main entrance on ordinary days, and during the peak season provides further in the north and south gates. Sale of tickets stops half an hour before closing.
The price of a one-time visit - CZK 200 for adultsand 150 - for children from 3 to 15 years. The smallest are free, and for families of two adults and two children, a discount - a common ticket will cost 600 kronor. Car parking in the parking lot SEK -100 zoo.
Visit sights and with his four-legged friend! The dog must have a passport with vaccinations, to be fastened on a leash, and his master - to buy a ticket for 100 CZK.
Services and contacts
For the visitors of Prague Zoo offers a variety of additional entertainment and services:
In the souvenir shops selling gifts for friends and memorable stuff with symbols ZOO Praha.
Kids having fun in the children's tram ride.
A special machine is easy to make your own medal.
Children waiting for a pony, where just 20 crowns can pogartsevat in good weather from April to November.
Photos Visitor offer professional photographers.
Official Site - www.zoopraha.cz
In clarifying questions will be answered by calling +420 296 112 230
Photos of Prague Zoo