Karlovy Vary in the New Year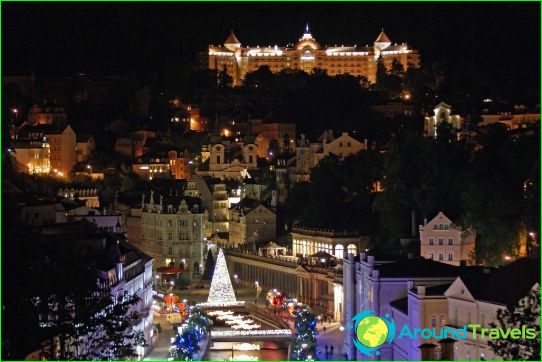 The main Czech spa Karlovy Vary is famousits mineral springs, a professional approach to the treatment and prevention of many diseases and unique infrastructure. Every year the city is visited by tens of thousands of people and many of them prefer to spend their winter holidays here. Beautiful in any season, Karlovy Vary in the New Year seem to be particularly attractive. "Blame" and that a light frost, and beautiful scenery, warm and caring hotel staff, and the opportunity to combine a relaxing holiday with useful features.
Sylvester and his companions
New Year Holiday in the Czech Republic calledSylvester, on behalf of the holy, happy that it coincides. On Sylvester accepted to give gifts, decorating a Christmas tree with delicious works of confectionary art, and visit each other's homes. The kids socks hang over the window to Nicholas, in which he lays out the obligatory gifts. This Czech Santa Claus does not take in their campaigns Snowflake granddaughter, but he would not mind to sit down with the good people at the banquet table.
Karlovy Vary in the New Year seem to be particularlybeautiful. City sparkles amazing garlands, gold foil, candles and lamps. Every hotel, shop or restaurant tries to surprise its visitors and guests with pleasant prices, new dishes on the menu, lovely presents and bonuses.
The city opens dozens of Christmassouvenir shops, noisy late fairs and Christmas bazaars. For those who like to knock shopping arranged raspodazhi and Czech beer fans are waiting for the tasting of new and favorite varieties.
Photos of New Year celebrations in Carlsbad