Relax in Karlovy Vary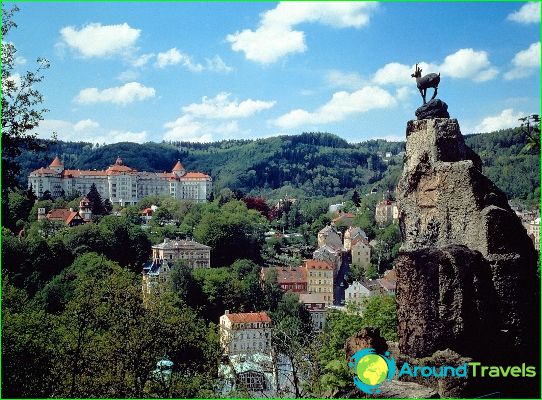 Relax in Karlovy Vary is chosen by people who appreciatebeauty and peace, because the city has many parks and gardens, buildings, executed in a variety of architectural styles, attractive shops, solid hotel, including spa-hotels.
The main types of recreation in Karlovy Vary
Treatment: Karlovy Vary travel all, whose purpose - to strengthen their health. Before you begin treatment, the therapist (doctors speak both English and Russian language) assigns each patient to pass tests, the results of which occurs drafting individual treatment program. To treat (the resort specializes in neurological, liver and stomach, metabolic disorders, diseases of the musculoskeletal system) used drinking cure, baths, irrigation and washing water-based mineral springs (water temperature + 40-70 ˚C), mud and paraffin wraps, electrotherapy procedures, inhalation, massage, acupuncture, diet food. It is worth mentioning that come for treatment in Karlovy Vary, it is advisable to 7-28 days.
Sightseeing: as part of tours you will visit the Museum-factory "Moser" (you will be acquainted with the production of glass products technology and provide an opportunity to look at the collection of cut glass), Japanese stone garden, the Karlovy Vary Regional History Museum, the Museum of Jan Becher, you will see the church of St. Peter and Paul, Mill colonnade, Goethe tower, Old castle.
Active: for active leisure available activities such as horseback riding, fencing, tennis, golf, squash. If desired, you can go to a public shooting range (10-15 minutes drive from the resort area), where you will be able to shoot at a moving target from the hard drive (everything you need - weapons, ammunition, targets, provided on-site).
Event: should not miss the opportunity to see the city, immersed in a festive atmosphere - visit Karlovy Vary during the Gastronomic Festival "FoodFestivalKarlovyVary" (May), the Carnival with contests, parade of masks, performances for children (June), the Karlovy Vary folklore festival (September), the celebration of " days of Beethoven "(August).
Prices for tours to Karlovy Vary
The most opportune time to travel to Karlovy Vary -May-September. This period is considered the high season, and at this time are all kinds of festivals and conferences, so the price of tours increased by 40-50%. As for the low season, the resort does not happen, because the treatment they come here all year round, but still buy more weekend trips to Karlovy Vary can be in January and February.
On a note!
To move around the city is best by bus and get to the suburban areas - high-speed train (tickets must be purchased in advance at the train / railway station or in a kiosk).
When visiting the local bars and restaurants, it is advisable to leave a tip (10% of the order), as well as to thank the guides, taxi drivers and maids for the services rendered to you a small sum of money.
In memory of their holiday in Karlovy Vary isbring liquor "Becherovka", Karlovy Vary cup to drink mineral water, cosmetics to mineral waters, made of crystal and Bohemian glass, beer mugs (when buying antiques and works of local artists is important to prepare all the necessary documents).
Photos of rest in Karlovy Vary