Excursions in Carlsbad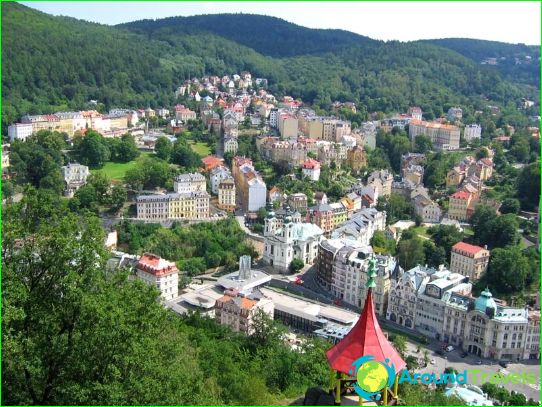 Karlovy Vary - Czech Republic is a wonderful resort,famous throughout the world. Many will give you an unforgettable experience excursions in Karlovy Vary. A stroll through the city, which is surrounded by forest and mountains, incomparable taste vafelek Carlo, the traditional liquor "Becherovka" - it's just something! If you book sightseeing tours to Karlovy Vary, you will be able to buy cheap memory, interesting souvenirs.
Perfect Karlovy Vary
A lot of great people rested and has arrived attreatment in the Czech town famous for its healing waters, mountain air and absolute peace. For a long time there was conducted a lot of medical examination, which showed that natural sources of Karlovy Vary can be used in the treatment of diseases of the gastrointestinal tract, liver and kidneys.
In Karlovy Vary you can perfectly combinerest with treatment, stay in the historic surroundings and enjoy the beautiful sights. Having been on tour in this city, you will see the wonders of the local architecture and forested mountains. The city can be proud of its well-tended gardens and parks.
The most popular tours
Loket, Moser factory. Going on this tour, you will find yourself in the amazing world of crystal glass Moser, visit Loket - a defensive fortress of the Middle Ages and the royal city. You will be able to receive the symbolic key to the Czech Republic, which will help you to open the way to a knowledge of the beauties of antiquity.
Beer tour. During the tour you will visit three breweries.
Hermitage Bayreuth and brewing museum. Brewery Museum in Karlovy Vary - this is one of the biggest museums of brewing, located in central Europe. Plunge headlong into the Middle Ages will help baroque complex of the Hermitage located in Bayreuth.
Castle Chyše. Not far from Karlovy Vary is a village called Chyše. The main decoration of the village is the castle of the same name, which was once a noble estate of local Counts.
Karlovy Vary - a graceful and serene Czechresort, which has its own interesting history, covered with legends and myths. In this city, you can not only treat and walk along the embankment of the river Teplá, amazing taste Czech cuisine and delicious beer in Karlovy Vary you can also book a guided tour in the liqueur and a glass factory, visit the Municipal Theatre and the Philharmonic.
Photo excursions in Karlovy Vary