Tours in Karlovy Vary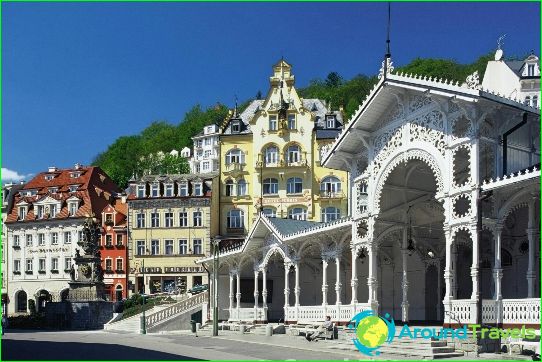 This town in the west of the Czech Republic is knownfans "of treatment on the waters" for a long time. Here come to the surface twelve mineral springs, in which water is similar in composition and the ability to heal dozens of different ailments. For those who are attentive to their health, loves European comfort and some privacy from the bustling city life and prefer hiking in the mountains vigil in discos, tours in Karlovy Vary - the perfect way to spend a long weekend or a short vacation.
History and geography
In 1711 there was resting on the waters of the emperor himselfEmperor Peter I, who decided to immortalize his name the construction of an Orthodox church. However, Peter and Paul church was founded only in 1900 and today in the church regularly hosts Orthodox services.
Tours in Karlovy Vary was popular and Russianwriters. Here I rested and treated NV Gogol, and Prince Pyotr Vyazemsky and all lived in the Czech health resort for several years, devoting the city and poetry, and writing in a personal diary.
The most favorable time to visit the resort- Spring and early autumn. The air temperature in April-May and September-October, is held in the area 20, and the rainfall are rare. In winter, there are no severe frosts, snow is not always, but the number of tourists decreases, and at this time you can choose a hotel without interference and to book cheap tours in Karlovy Vary.
Briefly about the importance
The main natural curative factor in the resort -its thermal waters. These mineralized various chemical elements and are used mainly for drinking water treatment. The contents of bromine and iron, lithium and potassium, magnesium and calcium in mineral water sources allows cure or remission converted into a huge number of diseases.
The resort is used, treatment withbalneotherapeutical procedures. So in the tour program in Karlovy Vary you can include treatment with oxygen, radon or carbon dioxide baths. They used water Vřídlo spring. Its capacity - 2000 liters per minute, and the pressure may create a geyser 12 meters high.
Above the source of Charles IV is a bas-relief, which tells about the opening of the resort. It is a source of water that prompted the king to the idea to build a health resort in the local waters.
Getting to the resort is possible by plane or train. The city has a bus station, where buses leave every hour to the capital of the Czech Republic.
Photo